Corpus Christi, TX (8/21/2020) – A pipeline explosion left two people dead and two others missing on Friday.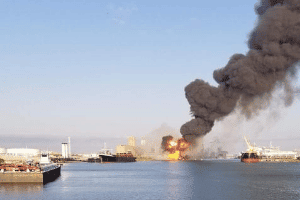 The incident happened when a dredging vessel struck a submerged pipeline, resulting in an explosion.
The bodies of the two victims were recovered Saturday morning.
Six people were also hospitalized, some being treated for burns.
The search has since been suspended.
Sutliff & Stout Maritime Lawyers
When a maritime worker suffers a personal injury while on the job, a personal injury claim is the best course of action for just compensation. However, victims may be blocked from achieving that claim due to Limitation of Liability. This is when the owner of the vessel can limit the amount of damages needing to be paid. This kind of lawsuit is detrimental for victims, so it's important maritime lawyers are consulted to deal with this kind of suit.
At Sutliff and Stout, we understand that whether you are a seaman, harbor worker, fisherman or longshoreman, your ability to earn a living or resume your daily life may be seriously compromised by an accident on the water. These cases are complex and require an experienced maritime attorney. If you or someone you know has been injured in a maritime accident, contact Sutliff & Stout to discuss your maritime claim at (713) 987-7111 or contact us online. Our team will properly evaluate your claim and help protect your interests.
Source: NY Times
Our deepest condolences go out to the families of the victims of this horrible incident. Please click the "Remove Post" link if you would like this post removed. REMOVE POST