Montague County, TX (3/29/2021) – Two people were killed in a wreck involving a semi-truck on Thursday.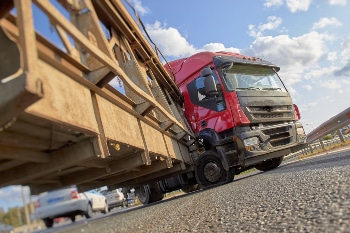 Two cars failed to stop at the intersection of FM 1816 and US 82, causing a semi-truck to crash into them. The semi-truck was unable to make an evasive maneuver to avoid the two cars.

Drivers Artie Carlton Willett, 40, and Kenneth Wayne Killian, 40, were both killed at the scene.
The driver of the semi was taken to Nocona Memorial hospital with non-life threatening injuries.
Crash investigators will review all factors that may have led up to the accident and police reports will be made available in fourteen days.
Truck Accident Attorneys
Any type of motor vehicle accident has the potential to cause serious and life-changing injuries. However, accidents involving large commercial trucks or 18-wheelers have an especially high risk of resulting in catastrophic or even fatal injuries for many reasons. While it remains to be seen what caused vehicles to collide with each other, we do know two drivers are now dead because of it.
Pending the results of the investigation, if the semi-truck is seen at-fault and it turns into a case, the process of filing a truck accident claims begins. This consists of filing a claim, negotiations, and ultimately litigation if a settlement cannot be obtained. This is why it's important to choose the right truck accident attorney for the best chance of receiving fair compensation. Our experienced truck accident lawyers at Sutliff & Stout work tirelessly to get you the compensation you deserve. Call (713) 405-1263 and someone from our firm will be in touch with you to set up a free and confidential case evaluation.
Source: News Channel 6 Now
Our deepest condolences go out to the families of the victims of this horrible incident. Please click the "Remove Post" link if you would like this post removed. REMOVE POST