Highlands, TX (1/7/2021) – A head-on crash left two people dead and one toddler hospitalized in Harris County.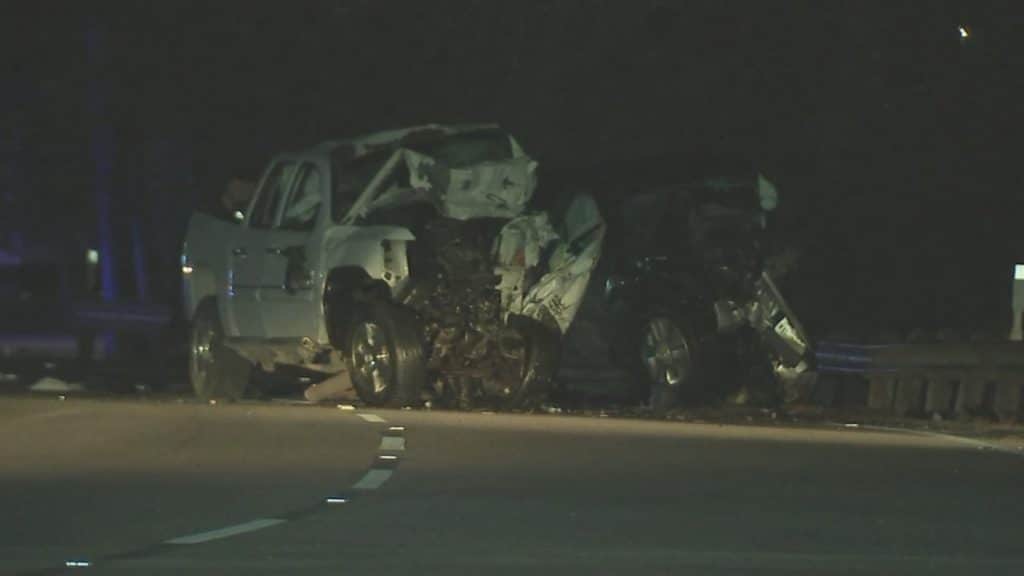 The accident occurred near Pin Oak on South Main Street around 9:51 p.m. when two Chevy Silverado pickup trucks, one white and one black, collided head-on with each other.
A two-year-old girl, who was a passenger in the white Silverado, was injured in the wreck. She suffered at least three broken limbs and a head laceration. She was taken to the hospital where she remains in stable condition.
Both drivers were killed at the scene. The driver of the black Silverado was identified as Vincente Aguilar and the driver of the white Silverado was identified as 32-year-old Claudia Santillan.
Crash investigators will review all factors that may have led up to the accident and police reports will be made available in fourteen days.
Investigators are currently looking into what may have caused the crash, and so far they believe the man may have been drunk at the time of the crash. The impairment caused by alcohol consumption frequently leads to devastating vehicle collisions which often result in incapacitating injuries and even deaths. 
Because Aguilar potentially caused a crash that led to the death of a mother and the injuries to a toddler, the right for the family to file a wrongful death claim and a personal injury claim is substantial. To do so, it's important to consult legal counsel while you file your claim since insurance companies may trick you into settling with little to no money. Call car accident attorneys Sutliff & Stout at (713) 987-7111 or send us an email to discuss your fatal car accident case.
Source: Click 2 Houston, ABC 13
Our deepest condolences go out to the families of the victims of this horrible incident. Please click the "Remove Post" link if you would like this post removed. REMOVE POST