Ellinger, TX (9/8/2020) – Two people were left with severe injuries after a home exploded on Tuesday.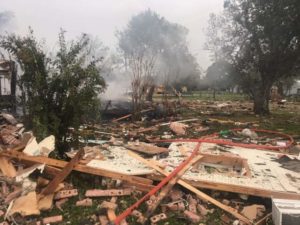 The accident happened around 6:40 a.m. when the home exploded. Several additional homes in the area were also damaged as a result.
Two people suffered severe injuries and were airlifted to Dell Seton Medical Center in Austin.
The extent of damage caused by this untimely explosion in Ellinger is greatly severe. Many homes were left damaged, and with it, many people inside are left with hundreds or thousands in property damage, injuries, or other catastrophes. If you or a loved one were involved in an explosion or suffer from a result from the blast, it is important to contact a legal expert to help you evaluate your options. Call Houston personal injury attorneys Sutliff & Stout at (713) 987-7111 or send us an email to discuss your case.
Source: KSAT
Our deepest condolences go out to the families of the victims of this horrible incident. Please click the "Remove Post" link if you would like this post removed. REMOVE POST