Garland, TX (9/5/2021) – Two people were killed after a fatal crash occurred Sunday morning in Garland.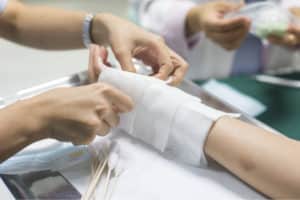 The accident happened around 2:30 a.m. on westbound Texas 66 between Dexham and Centerville roads.
Gustavo Huerta Jr., 30, was driving an SUV when he rear-ended a car, causing the car to hit a concrete barrier and overturn into a ditch. The car then caught fire.
Two people inside the flaming car were killed.
Huerta was arrested and taken to Garland jail. He faces a charge of Intoxication Manslaughter.
Crash investigators will review all factors that may have led up to the accident and police reports will be made available in fourteen days.
Car Accident Lawyers
Fiery crashes can cause the most fatal of injuries. According to the American Burn Association, burn victims make up over 700,000 trips to the hospital emergency rooms each year and of those visits over 45,000 of those individuals require hospitalization. Common causes of burn injuries are: faulty wiring or plumbing, auto accidents, defective automobiles, unsafe workplaces, poorly maintained smoke alarms or residences lacking the devices, and defective products. 
According to Texas Law, Intoxication Manslaughter involves an intoxicated driver that causes the death of someone else while they are behind the wheel. Because two people were killed, and the driver is seen to be negligent while behind the wheel, it's important to seek legal assistance who handles cases of negligence and Intoxication Manslaughter.
Whether the burn injuries are the result of an explosion, electricity, car crash or fire, you or your loved one will need experienced legal representation. At Sutliff & Stout, our Houston injury lawyers have the experience and resources to help you and your family in this difficult time.
If you were involved in a fire or a fiery crash, call personal attorneys Sutliff & Stout at (713) 405-1263 or send us an email to discuss your case.
Source: WFAA
Our deepest condolences go out to the families of the victims of this horrible incident. Please click the "Remove Post" link if you would like this post removed. REMOVE POST