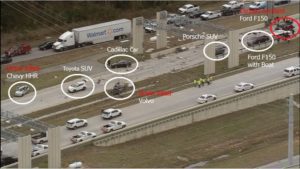 Two people were killed Wednesday in a multi-vehicle crash on the Grand Parkway.
The crash was reported around 2:30 p.m. on the eastbound side of the parkway near FM 2920.
Charles Glaze was driving a red Ford F150 when he crossed from the westbound lanes of Highway 99, over the median and into oncoming traffic, striking four vehicles. Mr. Glaze encountered a head-on collision with the first vehicle traveling eastbound and continued to hit five other vehicles. Mr. Glaze's F150 landed overturned on the highway.
Michael and Charlotte Brown were driving a Chevy HHR that was totaled. Mrs. Brown suffered a broken collarbone and was rushed to Memorial Hermann in The Woodlands. Mr. Brown did not survive.
The second deceased person has been identified as Linda Fuggiti.
According to the Harris County Sheriff's Office, five people including Mr. Glaze were taken to the hospital with non-life threatening injuries. Three victims are in good condition with the others remaining in serious or critical condition.
It has not been determined if Mr. Glaze will face any charges in the multiple car wreck. Authorities state that Glaze did not appear to be intoxicated. Mr. Glaze told police he doesn't remember what happened and that he suffers from seizures. However, Glaze did not appear to be in a post-seizure state and there are no medical restrictions on his license. The investigation may go to the grand jury to determine if charges will be filed.
In 2017, Mr. Glaze was charged with aggravated kidnapping and assault in Montgomery County. He was wearing an ankle monitor at the time of the crash on Highway 99.
The crash remains under investigation and accident reports will be available in ten days.
If you or a loved one were involved in a car accident, it is important to contact an expert car accident attorney to help you evaluate your options. Call (713) 987-7111 or send us an email to discuss your car accident injury case.
Source: ABC 13 KHOU 11
If a family member would like the name of a person removed for any reason, please click the "Remove Post" link. REMOVE POST