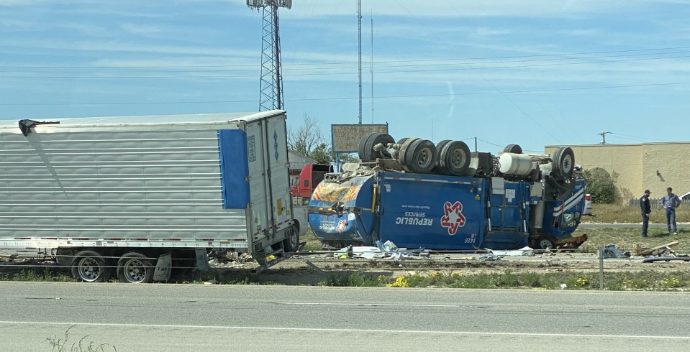 Midland, TX (4/8/2020) – Two people were killed in an I-20 pileup crash in Midland Tuesday afternoon.
According to the City of Midland, at around 2:47 p.m., a rollover crash occurred between a Kenworth semi-truck, a Ford F-250 pickup truck, and a garbage truck. The F-250 and the garbage truck behind the F-250 were traveling at slow speeds due to a traffic jam near the Lamesa overpass. The Kenworth was also traveling westbound behind the two vehicles when he approached them not at slow speeds. The driver of the Kenworth truck attempted to make a left-hand lane change to avoid impact, but still crashed into the garbage truck's back left corner. This then led the garbage truck to strike the F-250.
Because of the impact, the garbage truck spun sideways and rolled onto its top. The F-250 sustained heavy rear damage.
The driver of the Kenworth truck was pronounced dead at the scene.
The driver of the garbage truck and F-250 were walking around and appeared to be uninjured.
Crash investigators will review all factors that may have led up to the accident and police reports will be made available in fourteen days.
Pileup Accident Attorneys
Pileup accidents typically involve at least three vehicles, but sometimes more. A common scenario of this kind of accident happens when a speeding truck rear-ends a car stopped in traffic and pushes it into many other stopped cars, much like the situation above. PIleup collisions result in thousands in damages and many claims needed to be filed with insurance companies.
If you need to discuss a fatal accident case or a claim with a personal injury lawyer from Sutliff & Stout, Injury & Accident Law Firm feel free to give us a call at (713) 405-1263 or contact us online to discuss your injury or wrongful death claim.
Source: CBS 7