Marble Falls, TX (5/4/2021) – A two-vehicle wreck fatally killed one person Tuesday afternoon in Marble Falls.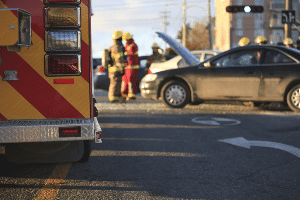 The accident happened at the intersection of U.S. 281 and FM 2147 West. An 18-wheeler and a Chevrolet SUV collided at the intersection.
The driver of the SUV died at the scene.
The driver of the 18-wheeler was taken to Baylor Scott & White Medical Center-Marble Falls.
Fuel was spilled on the roadways as a result of the wreck. The collision tied up traffic on U.S. 281 and FM 2147 for several hours.
Crash investigators will review all factors that may have led up to the accident and police reports will be made available in fourteen days.
Truck Accident Lawyers
With any Texas city, there are various commercial trucks on the road. While sometimes careful, they sometimes result in fatal crashes. A standard semi-truck weighs an average of 4,000 pounds while a large vehicle can weigh up to 80,000 pounds.
Because of the nature of their size, weight, and force, getting involved in an 18-wheeler accident can result in thousands in damages. It can result in pain and suffering, medical expenses, and loss of wages due to the extensive care replacing your workload.
Our hearts and condolences go out to the families. If you or a loved one were involved in a truck accident, it is important to contact a legal expert to help you evaluate your options. Call (713) 405-1263 or send us an email to discuss your car accident injury case.
Source: Daily Trib