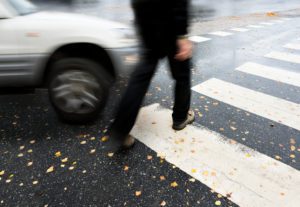 Houston, Texas (Aug. 19, 2022) – After a deadly 2021 for pedestrians traveling near Texas roadways, the Texas Department of Transportation (TxDot) is urging safety throughout 2022.
According to TxDot, 2021 saw 5,366 crashes involving pedestrians. Of these accidents, 841 Texans lost their lives as part of these crashes. This was a 15% rise in pedestrian fatalities over the previous year.
The state has determined that the top contributing factors among these accidents were:
Pedestrians failing to yield the proper right-of-way for vehicles
Distracted or Un-attentive Drivers
Drivers failing to yield the right-of-way for pedestrians
Failure to control speed
Both pedestrians and drivers share responsibility while on or near the road. For drivers this means understanding a few basic principles about roadway safety such as:
– Stop for pedestrians if they're at a crosswalk
– If turning right, always yield the right of way to pedestrians
– Be alert, watch out stopped vehicles who may be unloading pedestrians
– Put down your phone and keep your eyes on the road
– Always follow posted speed signs
– Be sure the check the weather conditions before you leave the house
As mentioned previously, the weight of the burden of safety isn't just on drivers. Pedestrians should remember a few things, like:
– Look both ways before crossing the street
– When crossing the street, always find a crosswalk, even if it means going up the street
– While crossing in a crosswalk, make eye contact with the driver
– Review your local traffic ordinances
– Use the sidewalk and try to walk on the left side road, facing oncoming traffic
– Put down your phone and keep your head up
If the worst were to happen, and you, a pedestrian, are struck by a vehicle, it's also important to know the resources available to you. The first step is to contact the experienced Pedestrian Injury Lawyers at Sutliff Stout.
Look to a Texas Pedestrian Accident Lawyer for Assistance With Your Claim
Sutliff & Stout has 15+ years of experience representing pedestrians over a variety of separate and unique cases. As such, compensation can be helpful to deal with any injuries or residual pain and suffering you may have incurred as a result of such an incident. Sutliff & Stout is a premier Texas pedestrian accident lawyer with a proven record of success where these types of claims are concerned.
We will fight for the compensation you deserve after being injured in a Texas pedestrian accident. Learn more with a free case review. Call us at (713) 987-7111 or contact us online today.