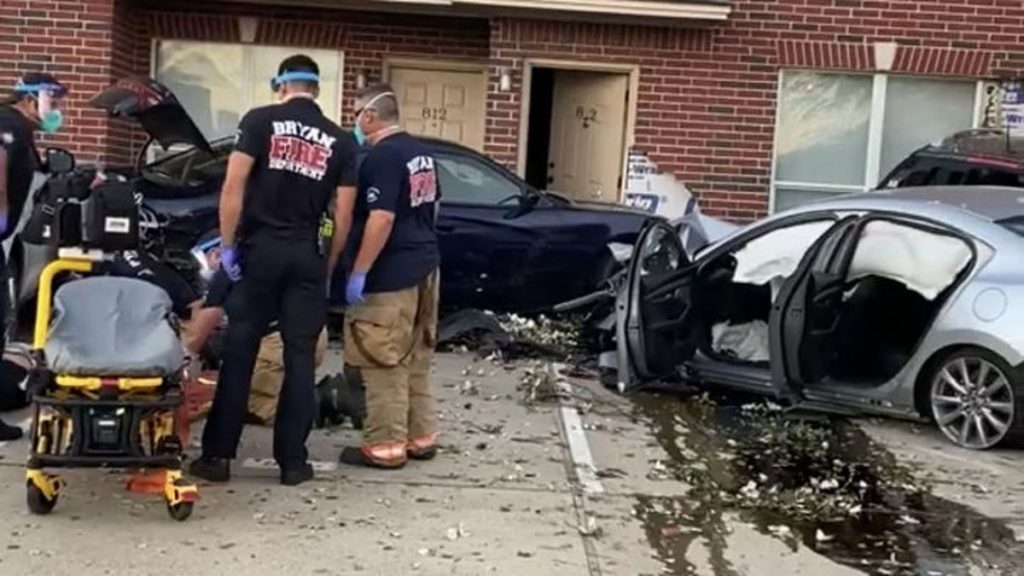 Bryan, TX (7/24/2020) – A multi-vehicle crash occurred after a vehicle drove into a Bryan apartment complex and hit not only the complex but four vehicles Friday evening.
The accident happened on the east side of F&B Road and Wellborn Road. A car was traveling at a high rate of speed on F&B Road when it crossed over the train tracks, drove through the intersection, and went into the parking lot and struck four vehicles. The vehicles then went into the building.
Bryan police say no bystanders or residents were injured but the driver of the vehicle, a man in his early 20s, was listed on Saturday in serious but stable condition at a local hospital.
Crash investigators will review all factors that may have led up to the accident and police reports will be made available in fourteen days.
According to Bryan police, several thousand dollars of damages were done to the vehicle and the apartment building. The man inflicted no injuries, but he did cause a great deal of property damage to the house. According to Forbes.com, the average American experiences three or four car accidents in their lifetime, and almost all collisions result in significant property damage. The car accident attorneys at Sutliff & Stout have helped countless car accident victims in Houston with their injury and property damage claims. For further legal counsel on what to do after your accident, call the car accident attorneys at Sutliff & Stout for a free consultation. Board Certified in Personal Injury Trial Law, our attorneys have the experience and knowledge to guide you through this difficult time. To schedule your consultation, complete an online contact form or call their office at (713) 987-7111.
Source: KBTX