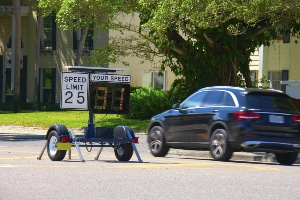 Austin, TX (6/7/2022) – After seeing a 5% rise in speed related fatalities in 2021, Texas law enforcement is aiming to crack down on speeding drivers in the state as part of their "Be Safe. Drive Smart." campaign. The campaign is entering a new phase that the State is calling Operation Slowdown.
According to Texas officials, more than 160,000 accidents on Texas roads were caused due to speeding last year. Over the next several weeks (June 7- June 21), Police across the state plan to focus on issuing citations to drivers going over posted speeds. Drivers can anticipate seeing a heavier police presence on Texas roadways throughout the campaign.
The State estimates that one in three vehicle deaths is caused due to speeding. 
How can I Lower my Speeding Risk on the Road?

Slow down – Speeding makes it significantly more difficult for a driver to react to road conditions or other drivers. The first step in being mindful of your speed is to watch it.

Technology is your Friend –  Many map services like Apple or Google Maps, use satellite data to tell you in real-time what the speed limit is or if there is traffic ahead of you. The next time you're driving across town, activate one of these services to see how intuitive and helpful they can be. Just be sure to mount your device in a safe, viewable space, without blocking any of your sight lines or mirrors. We never recommend operating a phone or mobile device while behind the wheel of a moving vehicle. 
Safety First – Proper maintenance of your vehicle can help you maintain safe speeds while on the road. Checking your tires' tread and pressure regularly help to ensure you can stop in-case of an unexpected break. One of the most common speeding accidents occurs when a speeding driver rear ends the driver in front of them. As stated previously, slowing down, proper vehicle maintenance, and maintaining a safe distance can ensure you get you to your destination safely. 
Houston Speeding Lawyers
In Houston, thousands of individuals are hurt in high-speed car accidents each year. Despite the knowledge that speeding is dangerous, speed remains one of the leading causes of car accidents. Speeding not only increases the likelihood of crashing but also substantially furthers the risk for catastrophic injuries or death among victims. 
Annually, 13,000 people die after sustaining catastrophic injuries in car accidents caused by speeding drivers. Often, those who survive live with debilitating injuries that require long-term medical care, assistance, and treatment. 
At Sutliff & Stout, we'll enlist all our internal and external resources to build your case and craft a winning strategy. We believe there is no excuse for speeding, which is why we work hard to bring justice to those who have been wronged. When you contact us after an injury, our priority is to be of valuable service to you. Request your free, no-obligation consultation with one of our injury lawyers by calling (713) 405-1263 or completing our contact form today.