Northlake, TX (1/31/2021) – A woman and child are killed, and another child is severely injured after a hit-and-run crash occurred Sunday afternoon.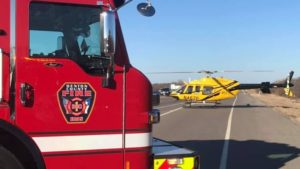 The accident happened on Interstate 35W around 3:40 p.m. when an Audi A6 collided with a Toyota. The impact pushed the Toyota into a concrete barrier then rolled before coming to a complete stop.
The driver of the Audi fled the scene. He was later arrested when he had to pull over for a flat tire.
The driver of the Toyota, a 59-year-old woman, and a four-year-old girl were killed at the scene. A second passenger, a three-year-old boy, was taken to Fort Worth hospital via helicopter.
According to a Facebook post, the three-year-old now suffers from brain inflammation.
The driver is now in custody and faces three charges: two charges of accident involving death and a third charge of accident involving serious bodily injury.
Crash investigators will review all factors that may have led up to the accident and police reports will be made available in fourteen days.
Brain Injury Lawyers
As a result of the accident, a child was left with a severe head injury. Severe head injuries can lead to traumatic brain injuries. While it remains to be seen if the infant suffered a traumatic brain injury, there are many victims out there that do suffer from a traumatic brain injury when they get into car accidents. According to the Centers for Disease and Control Prevention, 1.7 million Americans suffer a traumatic brain injury every year. Tragically, more than 50,000 people die from traumatic brain injuries every year, accounting for more than 30 percent of all injury-related deaths in the United States.
These kinds of injuries can lead up to thousands in personal injury damages. It's important to know your rights and seek compensation following a traumatic brain injury, or any other injury sustained in an accident. Because of the complex legal issues involved in a personal injury lawsuit of this kind, you must hire a lawyer who has extensive experience representing traumatic brain injury victims. Contact our personal injury lawyers in Houston today for a no-cost consultation.
Source: Texoma Homepage
Our deepest condolences go out to the families of the victims of this horrible incident. Please click the "Remove Post" link if you would like this post removed. REMOVE POST