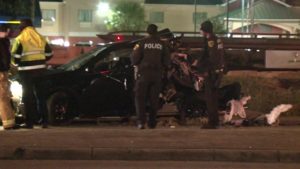 The Houston Police Department (HPD) is investigating a fatal hit-and-run crash at 12300 East Freeway that occurred on Sunday, December 9th around 4:15 a.m.
HPD reports the woman was in her black Nissan Sentra, pulled over on the shoulder of the freeway. The driver of a gray Toyota Tundra pickup truck, traveling eastbound on the East Freeway, failed to stay in a single lane and rear-ended the Nissan. The impact of the collision caused the truck to roll over and land on the feeder. The driver of the truck left his vehicle and fled the scene on foot. The woman was pronounced dead at the scene.
It is unknown why the woman was pulled over. Authorities were able to talk to witnesses that saw the entire car accident. The truck is registered to Illinois and the hit-and-run division continues to investigate the crash.
If you or a loved one have been victims of a hit-and-run accident, it is important to contact a legal expert to help you evaluate your options. Call (713) 987-7111 or send us an email to discuss your car accident injury case.
Source: Click 2 Houston
If a family member would like the name of a person removed for any reason, please click the "Remove Post" link. REMOVE POST