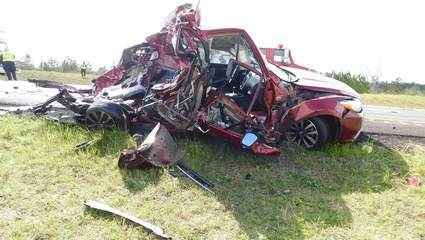 Houston, TX (2/14/2020) – A fatal wreck involving an 18-wheeler left three people injured, causing a woman and baby to be LifeFlighted to a hospital Thursday.
The accident occurred on Interstate 45 near Walker County. According to DPS, two people were stopped due to an accident when an 18-wheeler collided into the two vehicles.
A 27-year-old woman and a four-month-old baby were flown to Memorial Hermann Hospital for serious injuries.
A 34-year-old man was taken to a hospital in Conroe for serious injuries.
Crash investigators will review all factors that may have led up to the accident and police reports will be made available in fourteen days.
Truck Accident Lawyers in Texas
An 18-wheeler accident is one of the worst consequences to result from everyday driving. If fatal, the wreck can result in thousands in damages such as medical expenses, funeral expenses, emotional loss, and pain and suffering. Because the woman and infant were airlifted to a hospital for treatment of serious injuries, their damages can exceed well beyond the average medical bill and can easily leave them in crippling debt.
It's important to contact an attorney after a fatal accident since they will take the necessary steps to make sure you and your family's interests are protected. If you live in Houston or the surrounding areas and were involved in an accident, the experienced personal injury lawyers at Sutliff & Stout can help you understand how much your case is worth.
To schedule a free and confidential consultation your accident, please call or text our office anytime at 281-853-8446.
Source: Click 2 Houston