College Station, TX (10/18/2020) – A woman now suffers from serious injuries after being involved in a wreck Sunday morning on Wellborn Road.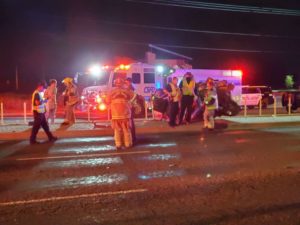 The accident occurred around 3 a.m. on Wellborn Road near Deacon Drive. A vehicle driven by 31-year-old David Andrew Hammond was reportedly going at least 100 mph slammed into the back of an SUV occupied by three people. The SUV flipped onto its top and ejected one of the passengers.
The passenger suffered a broken jaw and a serious brain injury at the scene. Her condition is being monitored.
All occupants in the SUV were taken to the hospital.
Hammond is now in jail and charged with Intoxicated Assault with a Vehicle causing Serious Bodily Injury.
Crash investigators will review all factors that may have led up to the accident and police reports will be made available in fourteen days.
Sutliff & Stout Car Accident Lawyers
According to Texas law, an Intoxication Assault involves a person who commits an offense if the person, by accident or mistake, operates a motor vehicle in a public place while intoxicated, by reason of that intoxication causes serious bodily injury to another. Serious bodily injury means an injury that creates a substantial risk of death or that causes serious permanent disfigurement or protracted loss or impairment of the function of any bodily member or organ.
Because the woman was left with serious injuries, and the driver is seen to be negligent while behind the wheel, it's important to seek legal assistance who handles cases of negligence and intoxication assault. An attorney can best represent you, negotiate settlements, and deal with insurance claims as you navigate your accident and personal injury recovery. If you or a loved one were involved in an accident, immediately contact a legal expert to help you evaluate your options. Call personal injury attorneys Sutliff & Stout at (713) 987-7111 or send us an email to discuss your car accident injury case.
Source: KBTX
Our deepest condolences go out to the families of the victims of this horrible incident. Please click the "Remove Post" link if you would like this post removed. REMOVE POST