Round Rock, TX (1/12/2021) – A multi-vehicle crash involving 11 vehicles closed SH 45 Tuesday morning and left three people dead.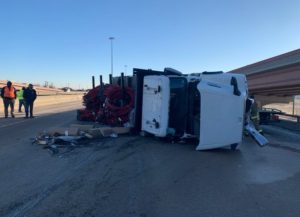 The accident happened in Round Rock on SH 45 between A.W. Grimes Boulevard and Interstate 35. An 18-wheeler that was involved in the collision rolled over and spilled diesel across the highway.
Officials said that TxDOT had de-icing trucks on the scene. Roads were reportedly slick due to a freezing fog Tuesday morning.
Crash investigators will review all factors that may have led up to the accidents and police reports will be made available in fourteen days.
According to the National Weather Service, freezing fog is when liquid droplets in fog freeze instantly when surface temperatures or at or below freezing. Freezing fog is an abnormal weather occurrence to appear in the state of Texas. Usual Texas weather includes either hot, sunny days or gloomy, rainy days. Rare is it when freezing fog occurs. But, when it does, it can be deadly. This kind of fog can cause black ice to form on roads.
Because multiple accidents with 11 vehicles occurred on SH 45 on Tuesday possibly due to the weather, multiple claims will be filed and it's necessary to hire an attorney to help with those claims. If you or a loved one were involved in a car accident, immediately contact a legal expert to help you evaluate your options. Call car accident attorneys Sutliff & Stout at (713) 987-7111 or send us an email to discuss your car accident injury case.
Our deepest condolences go out to the families of the victims of this horrible incident. Please click the "Remove Post" link if you would like this post removed. REMOVE POST