Car Accident Lawyers Fighting for Clients in Baytown, TX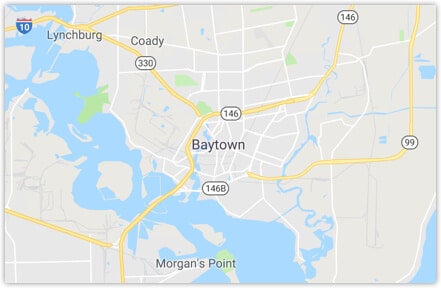 If you or a loved one have been on an accident in or around Baytown Texas, you should speak with an experienced Baytown car accident attorney as soon as possible.
A dedicated car accident lawyer at Sutliff & Stout will provide legal advice to help you understand your options for pursuing financial compensation for your losses.
Baytown is located at the intersection of Texas Highway 146, which runs north and south, and Interstate 10, which runs east and west across the northern part of the Houston area.
These major highways carry countless commercial truckers and commuters and are home to no small number of auto collisions and accident victims.
I am so thankful that a friend referred me to Sutliff & Stout…
I was physically hurt & my car was wrecked by the wrongdoing of another person and I am so thankful that a friend referred me to Sutliff and Stout. The attorneys Hank and Graham successfully settled my case and received the justice I was looking for because of my car accident. – Marie S.

Read and watch more client testimonials…
---
We're proud to be rated among the car accident lawyers in Baytown

---
Thankfully, many car accidents that occur in Baytown do not result in serious injuries. However, when careless or negligent behavior results in injury-causing incidents, victims have the right to pursue full and fair compensation for their losses.
If you or a family member has suffered car accident in a Baytown accident, we invite you to speak with an attorney from our firm about your case. This initial car accident case review is 100% free, obligates you to nothing, and will allow you to understand your best legal course of action.
Injured in Baytown? We are ready to help.

Submit the short form below to get a free case review.
Drunk Driving Crashes are a Significant Source of Injury and Death in Baytown
Our law firm recently analyzed five years of crash data from the Texas Department of Transportation in order to identify the Texas cities with the highest rates of drunk driving fatalities per capita. Despite its relatively small population of just over 75,000, Baytown has the sixth highest drunk driving fatality rate in the state, averaging 5.12 deaths annually per 100k residents over the past five years: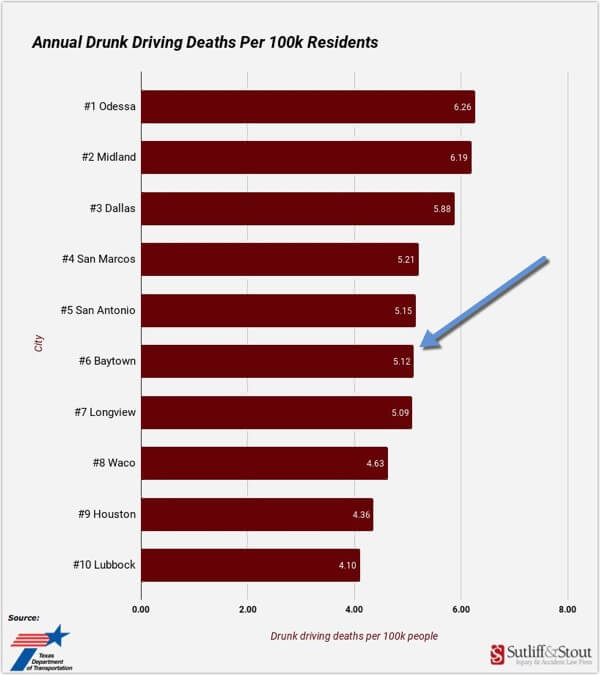 Common Types of Car Accident Claims in Baytown, Texas
There are many different types of car accident claims in Baytown, Texas. Some common types of car accident lawsuits include but are not limited to the following:
Premises liability claims;
Plant explosion and
Workplace injuries and illnesses.
No matter what type of accident you sustained, an experienced injury attorney can discuss your options with you for seeking compensation.
Filing a Baytown Car Accident Claim on Time
How much time do you have to file a car accident lawsuit in Baytown, Texas? Generally speaking, Texas law has a statute of limitations of two years for most personal injury cases & similar for car accidents. The statute of limitations is a strict amount of time a plaintiff has to file his or her claim before the person loses the right to seek compensation by filing a car accident lawsuit.
For most car accident claims, the statute of limitations begins running on the date of the car accident, and then a lawsuit regarding the claim must be filed within two years from that date. Although you may think two years is a long time, it becomes more difficult to gather evidence the longer you wait to speak with a Baytown car accident lawyer.
What Will Happen If I Am Partially Responsible for the Car Accident in Baytown?
People often want to know if they can still recover damages if they bear some responsibility for the car accident that caused their & others injuries. Texas law on proportionate responsibility (also known as comparative negligence or comparative fault) says that a person can still recover as long as he or she is not more than 50 percent responsible. Assuming the person is not found to be more than 50 percent responsible, then the person's damages award will be reduced by an amount equal to the percentage of fault found by the factfinder (e.g. a judge or jury).
For example, if a plaintiff is 10 percent responsible and was awarded a total of $100,000, the award will be reduced by 10 percent and the person will recover $90,000. However, once a plaintiff is 51 percent or more responsible the individual is barred from any recovery.
Obtaining qualified legal representation is important in determining the outcome of your auto accident or injury case. Your accident lawyer will negotiate with the insurance company on a fair settlement or will represent you in a trial. A settlement will help cover medical bills, lost wages, and pain and suffering. Insurance companies do not always act fair. If you are having troubles with an insurance provider seek the proper legal advice.
Contact an Aggressive Car Accident Attorney in Baytown, Texas
Were you involved in an accident? An aggressive car accident law firm in Baytown, Texas can help with your claim. The dedicated advocates at Sutliff & Stout, Injury & Accident Law Firm have years of experience assisting Texas residents and their families after devastating car accidents.
Contact us to obtain a free initial consultation to learn more about the services we provide to clients in Baytown.