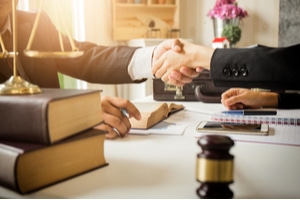 Just the thought of hiring an attorney can be intimidating for many people. Based on entertainment and media, people don't always have a positive impression of attorneys. However, having a skilled lawyer by your side can make a significant difference in the outcome of your case. You can research how to best resolve a legal matter on your own, but each situation is surrounded by unique circumstances that can drastically alter your case.
At Sutliff & Stout, we offer free consultations and are happy to discuss your case with you. Before a meeting, however, it's incredibly helpful to have a few facts and questions prepared to get the most value from the consultation. If you've never done this before, preparing for your initial consultation can be daunting. To make this process easier, consider the tips below.
We want to help you too.
Submit the short form below to get a free case review.
How Do I Know if I Need an Attorney?
Many accidents and disputes can benefit from an attorney's help. However, it's true that not every situation calls for legal assistance. To determine whether you can benefit from partnering with an attorney, ask yourself a few questions regarding the nature of your case.
If the answer is "yes" to any of the following queries, it may be time to schedule an initial consultation:
You sustained an injury that prevented you from working
Your injuries will likely cause lifelong problems
The at-fault driver was on the job or in a commercial vehicle
The driver liable for your accident isn't cooperating
The other party in the case hired a lawyer
You believe your case concerns wrongful death
In these cases, an experienced attorney may be your best chance for a successful and favorable outcome.
How Can an Attorney Help with My Case?
Not all answers to legal questions can be Googled. The personal injury laws in Texas are highly complex. Individuals who wish to represent themselves in a lawsuit often face extreme challenges that are almost impossible to prepare for without legal background and experience. Since each case involves unique details and circumstances, it's vital to your future that you have an experienced and skilled attorney advocating for you.
Here are a few ways that an attorney can help with your case:
Negotiate a favorable settlement with the other party
Provide experienced insight on laws and the local court system
Investigate all the facts and help you build a robust case
Collect statements from witnesses
Gather supporting documents for your case
What Can I Do to Prepare for My Initial Consultation with My Attorney?
To get the most benefit from your initial consultation, spend some time gathering key documents and information that will help your attorney understand your case. You also want to have questions prepared ahead of time so you can walk away with a clear understanding of your situation. Taking this time to prepare will help you garner the most valuable and useful advice during the meeting and ease any nerves you might have beforehand.
Tips to Help You Prepare for Your Consultation
Write down your questions ahead of time.
Collect and bring with you any documents or reports relevant to your case, including police reports, medical records, and repair costs.
Keep the desired outcome in mind when you start the consultation.
Ask a supportive friend or family member to accompany you to the meeting.
Be prepared with as many details as possible.
Be completely open and honest with your attorney and do not hide any details.
Research the law firm and their case result records before signing an agreement.
Understand that navigating the legal system can be a lengthy and difficult process.
Question to Have Ready before Your Consultation
How long have you been practicing this area of law?
How long has your firm been in business?
What type of cases do you handle most frequently?
Do you have any specialized training that can benefit my case?
Who will I be in direct contact with?
Will you take my case to trial if necessary?
How much do you think my case is worth?
What are your costs and fees?
How long do you think my case will take?
What is the likely result of my case?
How often will we communicate?
Schedule a Free Consultation with Houston's Dedicated Personal Injury Attorneys
With these tips and questions in mind, you can be confident knowing you're prepared for your initial consultation. At Sutliff & Stout, our personal injury attorneys are Board-Certified in Personal Injury Trial Law by the Texas Board of Legal Specialization. We've recovered millions of dollars in damages for our clients in Texas and are here to help you. To speak with a personal injury attorney at Sutliff & Stout, call (713) 987-7111 for a free consultation or complete a contact form.