Texas' state-wide texting and driving ban took effect September 2017. Here's everything you need to know.
Texas' Texting While Driving Law At-a-Glance:
Effective September 1, 2017, texting while driving is illegal across the state of Texas as the result of a texting-while-driving ban (House Bill 62) passed by the 85th Texas legislature and signed into law by Governor Greg Abbott.
The law prohibits motorists from reading, writing or sending electronic messages while driving.
Texting while driving within the state of Texas is punishable by a fine of $25-99 for first time offenders, and $100-200 for repeat offenders (although no points are assessed).
The law also states that if an accident caused by texting and driving results in the death or serious bodily injury of another person, the driver can be charged with a Class A misdemeanor punishable by a fine not to exceed $4,000, or confinement in jail for a term not to exceed one year (in addition to any other charges/punishments).
Injured by a Texting Driver?
Texas Texting and Driving Law 2017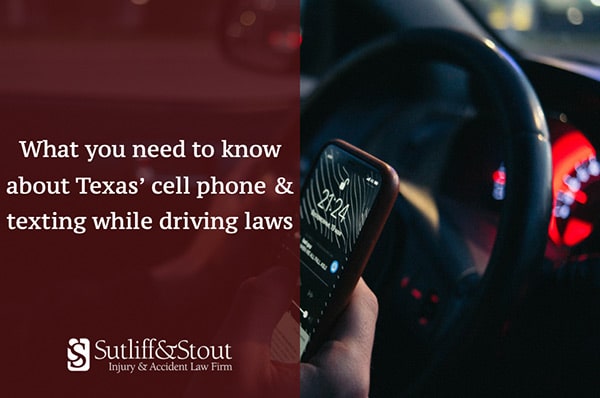 In 2017, the Texas Legislature passed a statewide ban on using a wireless communications device for electronic messaging while operating a motor vehicle.  
For those under 18 years of age, Texas law already bans all cell phone use while driving, including hands-free, except in the case of emergencies. 
Additionally, drivers are currently banned from texting and using hand-held cellular devices while driving in school zones. School bus operators also are prohibited from using cell phones while driving if children are present.
Exceptions to the new law include emergency communication or electronic messaging when the vehicle is stopped.
It's important to note that this new law only addresses "reading, writing, or sending electronic messages" via a "wireless communication device." It is still legal for motorists in most cities to use their phone for GPS navigation, music apps, dialing phone numbers, etc., but drivers may still get pulled over if an officer suspects them of texting.
Many local areas have passed stricter ordinances which completely limit any cell phone use while driving, so it is the responsibility of drivers to learn the laws in their local areas.  
Local Cell Phone Laws Vary in Many Texas Cities
Drivers should be aware that some cities have additional ordinances that are more restrictive.
Not every city has adopted stricter cell phone laws, but since 2009, more than 90 cities and towns across the state have decided to crack down even harder on the use of cell phones while driving.  Additional restrictions in many of these municipalities include the following bans:
Receiving text messages and reading them while operating a motor vehicle
Sending text messages while driving
No one with a learner's permit may use a cell phone in the car for six months following the issuance of their learner's permit
Anyone under the age of 18 is prohibited from using a cell phone in any capacity while driving
School bus drivers are not permitted to touch their cell phones in a bus if there are children on the bus with them
No one is permitted to use a cell phone in any capacity in a school zone
Not all cities and towns have implemented these laws yet, which is why the safest bet is simply to place cell phones out of reach while driving—regardless of where you travel in Texas.  
At least 45 Texas cities have gone above and beyond by enacting more-strict hands-free ordinances within their jurisdictions. These cities include:
Alice
Amarillo
Anthony
Aransas Pass
Argyle
Austin
Bedford
Bee Cave
Boerne
Buda
Corpus Christi
Deer Park
Denton
El Paso
Floresville
Garden Ridge
Hill Country Village
Hurst, Kingsville
Kyle
Lake Dallas
Lake Tanglewood
Lakeway
Laredo
Liberty Hill
Little Elm
Midlothian
Mont Belvieu
New Braunfels
Port Aransas
Rollingwood
San Antonio
San Juan
San Marcos
Schertz
Sinton
Socorro
Sunset Valley
University City
Watauga
West Lake Hills
Wichita Falls
Wimberley
Click here to view a list of cities with stricter cell phone laws
Take Texas Cell Phone Laws Seriously
The safest policy is to drive now and use your cell phone later.  If you must make a phone call or send a text, pull over. Otherwise, wait until you reach your destination to use the phone.  
All it takes is a split-second for something to go wrong on the road.  If you find it too difficult to let go of your cell phone habits while driving, you may want to try the following strategies: 
Consider placing your phone somewhere you cannot reach while driving
Turn the notification sounds off so you aren't distracted when someone is trying to reach you.  
Consider downloading safe driving apps that help prevent distracted driving. 
Pull over to make calls or send text messages 
If there is something so important it simply cannot wait for your attention, safely pull over in a safe, well-lit area and respond to your call, text, or message.  
The simplest thing is to not use your phone at all while driving.  It's the safest thing you can do for yourself and everyone else who is on the road with you.
Nearly 1.6 Million Distracted Driving Accidents Nationwide Yearly
"One in five crashes in Texas is caused by distracted driving," said Texas Department of Transportation Executive Director James Bass. "We are pleased the Texas Legislature recognizes the extreme danger caused by texting and driving. The new law sends a very clear message to Texans to put down their phones and focus on the road. We are hopeful this new law will help save lives and reduce injuries."
In 2018, 109,658 traffic crashes in Texas involved distracted driving. Those crashes resulted in 455 deaths and 3,087 serious injuries.