Due to various compounding issues, Texas is becoming an increasingly dangerous place to drive. For example, fatalities suffered on Texas roadways increased by 13% last year. Texans saw a 10-year peak, with 4,437 individuals losing their lives on the road.
The most dangerous place to drive in Texas? This should come as no surprise, but Houston took that spot with more than 2,000 people killed on Texas roadways last year. Close behind it was Dallas, with just over 1,500, and Ft. Worth following behind that, with around 900 fatalities.
This information should come as no surprise for frequent motorists of the Lone Star State. 
Beyond just fatalities are the increasing prevalence of overall crashes across the state. With the holiday season in full swing and Christmas around the corner, we feel that it's important to help provide some key statics so you can be informed while making your holiday travel arrangements.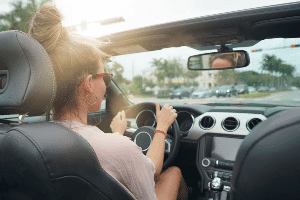 Know When to Travel
Friday is the busiest day of the week for motorists commuting across Texas. It's also the most frequent day for motor vehicle accidents. The Texas Department of Transportation (TxDOT) reports that a total of 5,089,504 crashes happened last year in the state. Of that total, 862,938 crashes occurred on Fridays. This total is 14% higher than any other day of the week, with the next closest being Thursdays. 
Drivers navigating the highways will also need to take into account what time of day they are planning to commute. Tracking crashes by hours in the day finds that there are three major spikes in crashes throughout the day.

The first of these spikes occurs between 7-8 a.m., coinciding with a common type of rush hour traffic during morning commutes. If you are planning to travel through any metro area, rush hour is something that will need to be considered. 
The next large wave comes at exact midday, with the final happening between 5-6 p.m. As with the first spike in crashes, this last spike occurs during the end-of-day rush hour, as workers across the state return home. This final spike in traffic is the most dangerous time to be on the road. 417,289 crashes happened during this hour on Texas roads last year. 
Learning Contributing Factors
Accidents don't happen on their own. Understanding the actions that lead to car wrecks can help you stay safe while traveling. At the end of the day, protecting yourself and your loved ones should be the chief concern.

Of the major contributing factors that cause car accidents in Texas, speeding, driving under the influence, and carelessness are the big three. 
Speeding can take multiple forms in car accidents, but ultimately, it's always recommended to follow traffic signs and obey local traffic laws. These rules are in place for a reason. Not only do they protect you, but others on the roadway. Being a safe yet courteous driver goes a long way in promoting safety for everyone on the road. 
Engaging in unsafe driving practices will only lead to the eventuality that your or someone you know will be injured while behind the wheel. Issues such as speeding, driving under the influence, or carelessness, only compound the risk. In 2021, reports of serious injuries while driving climbed by more than 32%, totaling 19,355 serious injuries for motorists, pedestrians, or passengers. 
It should also be noted that a large portion of the accidents throughout the state occurs along the I-45 and I-10 highway systems. These two highways can largely be thought of as the lifeblood of commerce across the state and are responsible for much of the common travel in the state. 
Unfortunately, as mentioned prior, these highways can also be dangerous and should be driven with all attention paid to the road. Distracted driving is another large contributor to accidents across the state. This hazard practice takes many forms but can ultimately be summarized as anything that pulls your focus off the road. This includes distractions like using a cell phone while driving, eating, or multi-tasking behind the wheel. 
If you plan to hit the road this Holiday season, we want to stress safety first. Making sure that everyone arrives safely at their destination is always the goal. If you do find yourself in a situation where you may be in need of legal assistance, remember the experienced, professional car accident lawyers at Sutliff & Stout. We've represented the greater Houston community and Texans throughout the state for nearly two decades.