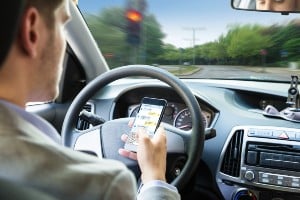 Unfortunately, texting while driving is a widespread problem. The National Highway and Traffic Association reports that texting claims roughly 3,000 lives per year. Any person who causes an accident as a result of texting can be held liable for the accident, as drivers are obligated to protect the safety of other motorists on the road. Therefore, intentionally engaging in distracted driving behaviors—such as texting—can make that individual responsible for any damages incurred. However, victims in crashes where texting was involved will need to prove that the other driver was texting to ensure they are deemed negligent.
If you have recently been involved in a car accident caused by texting, you should consult a skilled personal injury lawyer. An experienced Houston car accident attorney can gather the necessary records and evidence to prove the other driver was texting at the time of the accident. Here is some helpful information on proving the other driver was texting in your Texas accident claim.
We want to help you too.
Submit the short form below to get a free case review.
What to Do If You Are Involved in a Driving and Texting Car Accident
If you have been injured or involved in a car accident caused by another driver, it is essential to gather as much evidence as possible to prove their liability. This includes gathering eyewitness statements from anyone at the scene, retrieving the accident report, and taking photos of the crash.
In accidents that were caused by texting, it can be challenging to prove that the other driver's texting caused the accident. Specifically, if there are no eyewitnesses or police officers who were present at the time of the accident, it can pose challenges in proving liability. If there are no third parties who visually witnessed the other driver texting, it's important to consult an expert accident lawyer. Working with an attorney is the best way to ensure your rights are protected in accidents that pose challenges for proving liability.
An Attorney May Subpoena the Other Driver's Phone Records
One avenue for proving liability in an accident involving texting is subpoenaing the other driver's phone record. If there are no eyewitnesses to prove the other driver was texting, your attorney may choose to obtain a subpoena of the at-fault driver's phone record, as it will come with timestamps of all calls and messages made on the driver's phone.
Texting and Driving Illegal in Texas is Illegal
Similar to most other states, it is illegal to text and drive in Texas. In fact, in September 2017, Texas became the 47th state to ban texting and driving. However, while texting and driving is illegal, law enforcement has been slow to enforce the law to the fullest extent. So it comes as no surprise that texting remains a prominent culprit in Texas car accidents, responsible for approximately 30 percent of state-wide accidents. If you have suffered any damages as a result of another driver texting while driving, it's essential to know your rights and receive proper compensation for any damages you incurred.
Contact the Lawyers at Sutliff & Stout for Assistance with Your Personal Injury Claim
When you or a close friend or family member is injured in an accident as a result of another driver texting on the road, it can be overwhelming to navigate. The best way to minimize the stress of the claims process and ensure your rights are protected is to work with a Houston car accident lawyer. At Sutliff & Stout, our talented lawyers understand the stress accompanied by car accidents and are dedicated to taking a personalized approach to every case. Our firm has been recognized as one of the top 3 personal injury law firms in Houston, and our team has helped thousands of individuals with their car accident claims.
If you are looking to discuss your car accident case with a personal injury lawyer, the team at Sutliff & Stout is here to help. Call us today at (713) 405-1263 or contact us online to discuss your injury or car accident claim.