While traveling to work on I-10, our client was sideswiped by a driver that had fallen asleep at the wheel. The incident left our client injured, and facing substantial damages to their vehicle. Furthermore, the vehicle was forced to go into the shop for repairs, leading to difficulties for our client to commute to work and ultimately resulting in a loss of income.
Sideswipe accidents can often result in only minimal damage/injury, but in some cases, they can have significant consequences.
This type of accident typically occurs when two vehicles traveling either in the same or opposite direction make an impact on the side of each of their vehicles. Commonly, these accidents happen in a driver's blind spot. Sideswipe accidents are also typically labeled as blindspot accidents for this reason.
In car accidents like this, causes beyond blind spots can include distracted driving, fatigued drivers, intoxicated drivers, road rage, improper yielding, and dozens of other causes. The initial crash can be an extremely dangerous situation, but the moments after can be even worse for all involved and around the accident.
Cars involved in sideswipe accidents routinely are involved in secondary accidents or go on to strike another object near or on the roadway. This can be especially dangerous because drivers will routinely attempt to over-correct or avoid this secondary collision, causing them to make a defensive driving tactic without fully assessing their surroundings.
According to the Institute of Highway Safety (IIHS), there are a total of 242,000 sideswipe crashes each year. These accidents result in 27,000 injuries and as many as 2,500 estimated fatalities each year.
These accidents can involve very significant injuries. If a vehicle goes on to strike an additional object or vehicle in the aftermath of the crash, those involved can suffer serious injury, including but not limited to: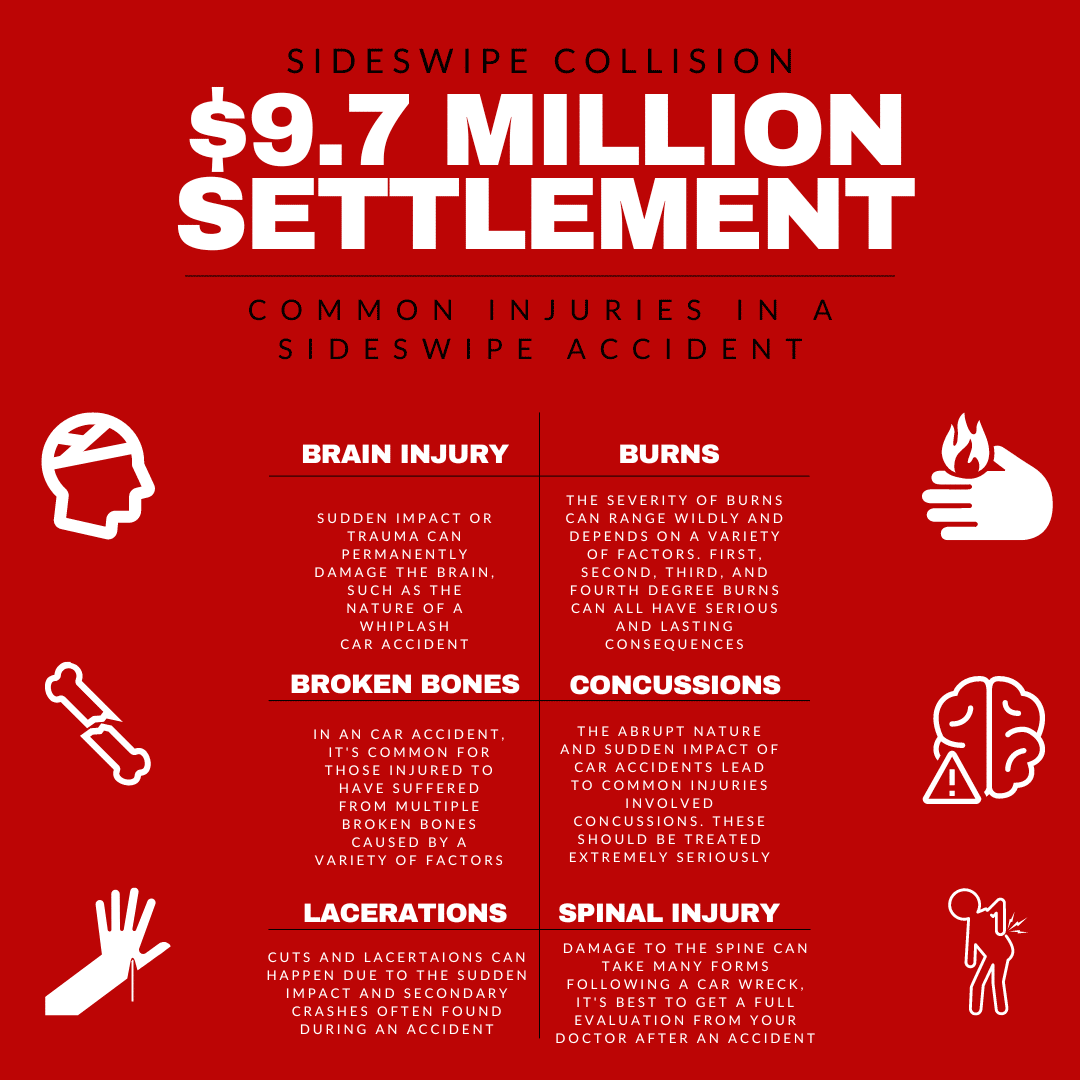 Brain Injury
Broken Bones
Burns
Concussions
Injury to the Spinal Cord
Internal Damage
Lacerations
Our client that was involved in this particular accident was facing one of these situations following their accident. We were tasked with investigating the contributing factors that led to the crash and injury as a part of the discovery process.
Through an extensive research period, our team of legal experts assembled a robust argument that pointed to the contributing factors of the accident. This ultimately showed fault on behalf of the other driver, but a unique challenge arose following this step. The opposing driver only had a standard, minimal insurance policy.
Insurance companies are not in the business of paying out money. By their very design, their goal is to distribute as little money as possible. The less they have to distribute, the more profit is being generated. In this case, it meant that Sutliff & Stout had to demonstrate why the actions of their client forever altered the life of ours'.
Litigation proved to be a turning point for a case like this. Thanks to work previously done through discovery, a process of investigation, fault and impact had been established. Our team was able to negotiate on behalf of our client a settlement of more than ten times the available insurance.
This large settlement helped our client with medical care and coverage to repair/replace their vehicle. In addition, it provided them with back pay for time missed from work and upfront estimates for any future charges or loss of employment that this incident would have caused.
The case was settled for a total of $9.7 million.