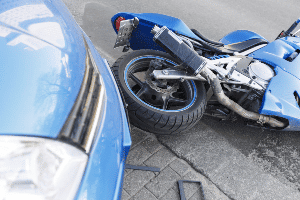 Owning and riding your motorcycle can be thrilling, especially in Texas where there are many scenic roads to travel. However, operating a motorcycle can also be incredibly dangerous. According to the U.S. National Highway Traffic Safety Administration (NHTSA), motorcycles are "more likely to be involved in crashes than cars" and motorcycle deaths occur "28 times more frequently than in any other vehicle."
Here are some of the best steps you can take to effectively ensure your survival in the instance of a motorcycle accident.
Physical Protection
Safety starts with the driver protecting him or herself first and foremost. When you are out riding, protective gear can help prevent accidents or mitigate damage if one occurs. The most obvious of these is a helmet, which reduces the risk of head injury by 69% and the risk of death by nearly 50%. Wearing a full-face motorcycle helmet is your safest option for headgear, which can be especially useful in preventing debris from striking you while driving.
Other items you might wear for your safety include reflective outerwear, gloves, and glasses. Reflective clothing can offer protection from other drivers by ensuring that they are aware of your presence, and gloves or glasses can give you more control over your motorcycle while riding, which can ultimately keep you safe from other drivers.
We want to help you too.
Submit the short form below to get a free case review.
Practice Safe Driving
It is impossible to avoid being surrounded by bad drivers, but one of the best ways to protect yourself is to ensure that you are driving your motorcycle as safely as possible. One of the best ways to do this is to drive cautiously around other vehicles while maintaining the speed limit. Avoid any opportunity to navigate between cars and do not pass other vehicles in your lane. You cannot control the way that others drive, so it is important to ensure your own safety through careful driving.
Pay attention to your surroundings and stay alert, since debris in the road or halted traffic can require you to change directions quickly or come to a sudden stop. You will also want to pay close attention to your fellow drivers, as certain vehicles can be more dangerous than others when on a motorcycle, such as a truck with an open bed carrying equipment or loose debris.
As with any vehicle, avoid operating your motorcycle if you are intoxicated in any capacity. While it is important to not drive under any kind of impairment, such as lack of sleep, studies indicate that "almost half of all fatal accidents showed alcohol present." If you have been drinking, avoid riding your motorcycle altogether.
Maintain Your Motorcycle
Performing routine maintenance on your motorcycle is an important practice that can save your life. By ensuring that your vehicle is in good condition, you will significantly reduce the chance of experiencing an accident on the road.
Checking your battery, brakes, and tires is a regular and essential part of motorcycle maintenance. Avoiding a popped tire or a faulty brake can save your life and the lives of other drivers. Be sure to check that your mirrors and lights are in working order, as they are the first line of defense when checking your surroundings and alerting other drivers to your presence. By continuously monitoring the safety of your motorcycle, you will be able to survive and, ideally, avoid an accident.
Expert Motorcycle Accident Attorneys in Texas
Sometimes you cannot avoid an accident, no matter how much preparation you do. For times like these, you need real help from an expert in motorcycle accidents and injuries. If you have recently been in a motorcycle accident, the team at Sutliff & Stout will work with you to get the help you need.
The Board-Certified attorneys at Sutliff & Stout have helped thousands of victims in Texas get the justice that they deserve, and we can help you, too. If you are ready to move forward with your case, give us a call at (713) 987-7111 or contact us online today to get started.