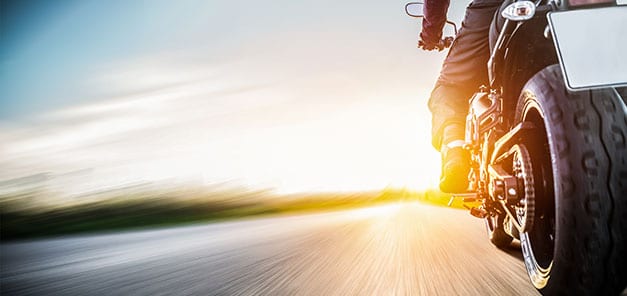 Like all states, Texas regulates the vehicles on its public roadways. Motorcyclists are required to follow traffic laws just like all other motorists, but are also subject to a specific set of Texas laws that apply to the operation of motorcycles.
Failure to be aware of the Texas motorcycle laws can result in significant legal penalties. Some of the more important motorcycle laws in Texas that all riders should know are discussed below.
Lane Splitting is Illegal in Texas
One of the most attractive aspects of riding motorcycles is their slight frame and maneuverability. Many motorcyclists take advantage of their vehicle's size and maneuverability and go in between, or "split" lanes in order to move faster than the flow of traffic.
This practice, known as lane splitting, is illegal in Texas.
If you engage in lane splitting and are injured in an accident, it will be difficult for you to recover compensation for your losses because lane splitting is a violation of the law. In addition, you risk receiving expensive tickets and adding points to your license. As always, we advise that you obey the Texas law regarding lane splitting to avoid injury and traffic violations.
Texas Requires Certain Riders to Wear a Helmet
Texas law requires all motorcyclist under 21 years of age to wear a helmet.
If you are over 21, Texas law requires that you wear a helmet unless you fit into one of the following exceptions:
If you have completed a state-approved motorcycle safety course; or
You can establish that you have an insurance plan that would cover your healthcare costs if you are involved in a motorcycle accident.
It is worth noting that the current Texas motorcycle law prohibits law enforcement from stopping a person for the sole purpose of determining whether either exception applies to them.
While Texas law permits certain motorcyclists to ride without a helmet, it is important to note that it is never advisable to do so. Studies show that helmets are ~37% effective in preventing motorcycle deaths and ~67 percent effective in preventing brain injuries [1].
Texas Requires Motorcyclists to have a Specific License
Texas requires people who wish to operate motorcycles on public roads to obtain a special license commonly referred to as a "Class M License." In addition to meeting all of the requirements for a regular driver's license, a Class M License requires that you take safety course approved by the Texas Department of Public Safety and then present proof of completion when going to get your license. If you have a valid motorcycle license in another state, the safety course requirement can be waived.
Motorcyclists are Required to Carry Liability Insurance
All motorcyclists are required to have compulsory liability insurance that will pay for at least $30,000 per person injured in an accident and $60,000 for multiple people injured in an accident. In addition, this insurance must cover property damage of at least $25,000.
You Cannot Transport Passengers under Five Years Old
While taking your kids, nieces, nephews, or other young family members on a motorcycle ride may seem like harmless fun, it can result in a traffic citation. Texas law prohibits passengers under five years old from riding on a motorcycle – they can, however, ride in a sidecar.
Your Handlebars Cannot be More than 15 Inches Above the Seat
Many motorcyclists use high handlebars both for comfort and to achieve a particular visual aesthetic. However, Texas law limits handlebars to 15 inches above the seat and anyone with higher handlebars risks facing a traffic citation.
Miscellaneous Texas Motorcycle Laws, or Lack Thereof
While eye protection is not required on road, it is required for those who take their motorcycles off-road.
No restrictions are placed on the sound produced by a motorcycle in Texas.
You are required to use a daytime headlight unless the motorcycle was manufactured before 1975.
There are no restrictions on the use of helmet speakers.
You are required to have at least one rear-view mirror on your motorcycle.
There is no restriction on the use of radar detectors for motorcyclists.
While many Texans ride their motorcycles their entire lives without any incident, there is always a risk of an accident or injury each time you take to the road.
The following statistics published by the National Highway Traffic Safety Administration (NHTSA) and the Centers for Disease Control and Prevention (CDC) will give you a brief look at the seriousness of motorcycle accidents throughout the United States and some of the key factors in such accidents.
Safety Tips That Every Texas Biker Should Follow
As any motorcycle enthusiast will tell you, riding can be exhilarating. Motorcycles are incredibly fast, maneuverable, and allow riders to enjoy the outdoors while traveling from place to place. Unfortunately, these same characteristics can make riding a motorcycle incredibly dangerous. According to the National Highway Traffic Safety Administration (NHTSA), there were approximately 88,000 motorcyclists injured during 2013, and motorcyclists were 5 times more likely to be hurt in accidents than passenger vehicle occupants.
Below, we discuss some of the ways that motorcyclist can make riding safer. In the unfortunate event that you are hurt in a motorcycle accident, you should call an attorney with experience handling motorcycle cases. Many lawyer, including this Firm, offer free initial consultations.

Always Obey the Law
One of the simplest things you can do to avoid a motorcycle accident is to follow all relevant laws and regulations. Do not speed or ignore stop signs, and always yield the right of way when appropriate. In addition, follow all motorcycle-specific regulations, including laws regarding helmets, lane splitting, and weaving in and out of stopped traffic. If you get into an accident while breaking traffic laws, it can adversely affect your ability to recover compensation – so not only will you likely be ticketed for your conduct, you will also not be able to recover compensation for any medical expenses, lost income, or other losses. Also, you should always assume that the other drivers do not see you. Defensive driving is the only way to combat those drivers who don't belong on the roadway.
Get Professional Motorcycle Training
Riding a motorcycle is significantly more complex than riding a bicycle and is vastly different than driving a car. Professional training can go a long way in learning skills and developing habits that will keep you safe during your riding career. The Motorcycle Safety Foundation has designed a RiderCourse and certifies RiderCoaches around the country, and you can find a course near you by clicking here.
Ride a Motorcycle that is Appropriate to Your Level of Skill and Experience
Don't let your ego get the better of you. Motorcycles can vary greatly in their power, maneuverability, acceleration, and braking capabilities. Your skill level and experience will play a large role in deciding the motorcycle that is appropriate for you. For example, a fairly inexperienced rider will probably not be able to handle a large, powerful bike safely, while a more experienced rider will probably find themselves dissatisfied with a bike that has been designed for beginners. Another issue to consider is the surfaces on which you will be riding, as certain bikes may be better suited to paved roads and should not be taken on dirt or gravel surfaces. If you live in a rural area where non-paved roads are common, it may be wise to discuss that fact with the dealer when purchasing your bike.
NEVER Drink and Ride
Riding a motorcycle and drinking do not mix. Not only is it illegal to ride a motorcycle while drunk, drinking can also affect your balance, judgment, reaction time, and vision, all of which you need to ride a motorcycle safely. In addition, riding with a drunk passenger can be dangerous as well, even if you are sober, as passengers need to maintain balance just as much as operators. Finally, while riding together from one drinking establishment to another can be a large part of motorcycle culture, it is important to always have a designated driver or an alternative ride home should you inadvertently become intoxicated while out on your bike.
Practice Proper Vehicle Maintenance
Failing to practice proper motorcycle maintenance can put you at significant risk of an accident. Motorcycles are complex pieces of machinery that have thousands of individual parts, and the failure of any part has the potential to cause an accident. Of course, make sure to pay attention to obvious maintenance issues like the condition of your tires and brakes, as the failure of either can easily cause you lose control. It is also dangerous for your engine to misfire when trying to accelerate from a stop, so it is equally important to practice preventative maintenance on a regular basis. Consult your owner's manual to determine when to take your bike in to have it inspected and follow the recommended maintenance schedule to the letter.
Avoid Hazardous Conditions whenever Possible
No motorcyclist wants to get caught out in the rain or snow. Not only is it uncomfortable to be outdoors in bad weather, it can also make riding extremely dangerous. With only two points of contact on the ground, the results can be devastating if your motorcycle loses traction. Because of the risks associated with riding a motorcycle in bad weather, it is best to simply avoid doing so when possible. Always check the forecast before you take your motorcycle out, and in the event that you do get caught in a storm, pull over until conditions improve or find another way home.
If you are injured in a motorcycle accident, we invite you to contact our law firm for a free case review.
Sources