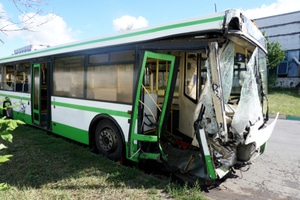 In 2019, Texas was top of the list for the most accidents involving large trucks or buses according to a study by Forward Thinking. The total number of vehicles damaged nationwide in 2019 was 122,331 and the total number of people injured was 60,818. Even more unfortunate is that 3,087 people died from one of these accidents.
Being involved in one of these scary and sometimes fatal accidents leaves victims and their families lost in what to do next. Sutliff & Stout specializes in bus accidents in and outside the Houston area. Finding the right bus accident lawyer to understand your case details is your next decision.
Here's what you should know about the variances in these accidents and claims.
We want to help you too.
Submit the short form below to get a free case review.
Common Causes of Bus Accidents in Houston
In the most unfortunate circumstances, bus accidents occur because of driver negligence. Similar to regular motor vehicle accidents, the driver holds the greatest responsibility for safety. The Federal Motor Carrier Safety Administration has strict guidelines for operating these larger vehicles, but if something occurs with sleep deprivation, speeding, cell phone distractions, or other driver negligence, this will be the responsibility of the driver.
Similarly, if there is negligence in part by the bus company because of inadequate training or supervision, failure of vehicle maintenance, or other mechanical problems, one of our expert Houston bus accident lawyers can help you gather information for your case.
Third parties, similar to single-car accidents, or where there are unavoidable variables may also come into play with bus accidents. If you were involved in a situation where a third party was involved, be sure to start by recording your notes and recollection of the accident. This will help our team provide immediate consultation on the next steps.
What Qualifies as a Bus Accident in Houston?
The Federal Motor Carrier Safety Administration defines a bus as any motorized vehicle capable of carrying more than 10 passengers. Whether the vehicle is in the transportation business or not, they are still subject to federal safety regulations. The category includes school buses, large vans used for public transport, church buses, municipal transit buses, many airport shuttles, tour buses, trolleys, and interstate carriers like Greyhound buses.
Damages That You May be Able to Recover after a Bus Crash
Before assuming you or your family are due any damages, consider the fact that these types of cases are not always open and shut. Bus companies and manufacturers are prepared to ensure passenger safety, and they will seek similar information to reduce the likelihood the company or their driver had any negligence. This can be a long, arduous journey, but our expert team of Houston bus accident lawyers can provide immediate assistance to guide you through this process. Here are a few claims you or your family can make against the bus company, the driver of the bus, or other third parties involved:
Medical expenses
Lost wages
Impairment of earning capacity
Lifecare expenses
Vocational rehabilitation
Pain and suffering
Loss of consortium (the services of an injured spouse)
Punitive damages
Selecting a Houston Bus Accident Attorney That is Right for You
It is important to seek an attorney who is an expert on federal, state, and municipal laws. The competency of the team allows you to focus on your recovery rather than the details of the complexity of the case. Your attorney should be listening intently and providing several options along the way, ensuring you have the highest level of preparation and leadership behind you.
We have experienced Houston bus accident lawyers that have the skill and education needed to produce a competent legal strategy. Attorneys with Sutliff & Stout will vehemently seek justice and maximum compensation. Our board-certified attorneys have helped clients recover compensation from these types of situations, allowing them to rebuild a better life after their accident. Call our office at (713) 987-7111 or complete our contact form today.