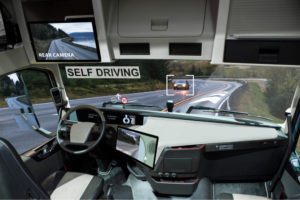 Self-driving trucks are on the rise. A phenomenon that once only occurred on TV now happens in real life. Last summer, the self-driving semi-truck manufacturer, Waymo, announced that their autonomous trucks and minivans would start making routes throughout Texas and New Mexico. After the self-driving technology company made the announcement, citizens across Texas began debating whether these self-driving vessels are safe for other drivers on the road.
Autonomous, or self-driving, trucks are new to the global market. Automated semi-trucks are currently being used throughout the U.S. in Texas, Georgia, Arizona, and California. Waymo's announcement noted that their self-driving Chrysler Pacifica minivans would be deployed to Texas roads before their larger, autonomous semi-truck fleets. Texas is home to more than 800 trucking companies, according to the Texas Trucking Association. Changes in this industry affect many Texans, and the safe operation of these trucks for other drivers on the road is paramount.
We want to help you too.
Submit the short form below to get a free case review.
Trusted Houston Truck Accident Attorneys are Here to Help
If you or someone you love has been hurt in an accident with a self-driving truck in Texas, the truck accident lawyers at Sutliff & Stout, Injury & Accident Law Firm are here to help. Our attorneys have recovered tens of millions of dollars in settlements for truck accident victims and have significant experience handling commercial trucking injury cases. Sutliff & Stout attorneys are here to help truck accident victims in Houston and provide complimentary consultations as the first step toward getting the compensation you need.
How Do Self-Driving Semi-trucks Work?
Autonomous vehicles use sensory data on the roads and the surrounding environment to drive autonomously without aid from a human driver. The self-driving trucks will be operating in Texas on Interstates 10, 20, and 45. Self-driving trucks operate through the use of data on speed limit laws and road conditions provided by satellite maps. Waymo and other autonomous vehicle manufacturers claim their self-driving vehicles are safe, and all autonomous trucks would carry drivers who can take control of the wheel if need be, while en route.
What are the Benefits of Self-Driving Trucks in Texas?
Those in favor of the self-driving trucks say they ultimately will make our roads a safer place for truckers and passenger vehicle drivers. Promoters of self-driving trucks claim that putting autonomous trucks to use will provide many benefits, such as:
Higher efficiency of cross-country routes
Lower operating costs for the trucking industry
Removal of the highest risk in truck driving, which is human error
The president and CEO of the Texas Trucking Association, John Esparza, has said he's looking forward to the arrival of autonomous trucks. Citing how distracted driving causes most fatalities on the road, Esparaza said, "Once you deploy this technology that takes error out of human hands, you'll start seeing some real change."
Other proponents of autonomous trucks note that this new technology won't impact the trucking industry's need for qualified and skilled tractor-trailer truck drivers who have clean driving records. Alejandra Cid, manager at Houston's 21-year old AAA CDL School, told the media, "The demand for drivers is so high, regardless of whether or not you're actually controlling the wheel."
What are the Risks of Self-Driving Trucks in Texas?
Those more dubious of autonomous trucks in Texas claim they will threaten to replace the nearly 300,000 cross-country truck driver jobs around the country. With many of those jobs located in Texas, there's a growing concern that the increased number of self-driving trucks will lead to an increasing number of jobs lost within the industry.
The International Brotherhood of Teamsters, a union of 1.4 million members with more than a half-million working in transportation, claims that self-driving trucks depend on technology that's proven to be unreliable – which poses a significant safety risk to other Texans on the road. Teamsters Local 577 in Amarillo, Texas is paying close attention to Waymo's arrival on the state's roadways. While safety is a primary concern, worries of job loss are also top-of-mind for skeptics of self-driving trucks.
Call Houston's Professional Truck Accident Attorneys if You've Been Hurt
Have you or a loved one been involved in a car accident with a self-driving truck or vehicle in Texas? Whether your accident involved an autonomous or manually-driven truck, the personal injury truck accident lawyers at Sutliff and Stout offer expert knowledge and experience to help with your claim. We understand how devastating truck accidents can be for victims and their families, and we can help you get justice.
Our truck accident attorneys are Board Certified in Personal Injury Trial Law by the Texas Board of Legal Specialization – an honor that only 7% of attorneys can claim. We provide aggressive representation and fight for you, all the way to trial if need be, to attain compensation that you deserve. Consultations with Sutliff & Stout are free with no out-of-pocket costs until we recover money for you. To speak with Sutliff & Stout about your injury claim, complete an online contact form, call, or text us today at (281) 942-8694.