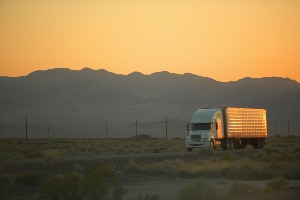 Truck accidents are scary situations for any motorist; averaging a weight of 40 tons, 18-wheelers can cause great, catastrophic damage if involved in a wreck with another vehicle. Unfortunately, these accidents occur more frequently than we'd like. According to the NHTSA, 78% of fatal truck accidents occurred during the weekday in 2017.
Truck drivers have to operate their vehicles in a safe manner, and when that doesn't happen, fatal consequences like a collision can occur. If you were involved in an 18-wheeler accident and aren't sure what to do next, read below for the next steps and contact your Houston truck accident lawyer for your truck accident case.
We want to help you too.
Submit the short form below to get a free case review.
Why Do 18-Wheeler Accidents Happen?
To start, how exactly do 18-wheeler accidents happen? Much like car accidents, 18-wheeler accidents occur because of various factors, whether it be internal due to a driver's negligence or external due to outside conditions. Here are a list of reasons truck accidents occur:
Speeding: Speeding happens when a vehicle is going too fast compared to the traffic around them.
Distracted Driving: This involves various factors, involving texting, changing the radio, or simply not paying attention to the road in front of you.
Driving While Intoxicated or Under the Influence: This is done when drivers get behind the wheel after taking drugs or alcohol.
Hazardous road conditions: These accidents occur on dangerous roads. These roads could be going through construction or are poorly built.
Weather Conditions: Rain, sleet, snow, hail, fog, etc., are common causes of 18-wheeler accidents.
Improper Cargo Loading: Improper cargo loading can lead to a truck falling on other cars or rolling on a curve.
Defective Parts: Not having a properly maintained vehicle can lead to fatal accidents.
Blind Spots: Blind spots are large on 18-wheelers, so the risk of accident is greater than it would be for a regular passenger vehicle.
Construction: Driving through construction often involves hazards, including dispersed cones, loose gravel, and workers actively working on the roadways.
Safety First
Following a collision with an 18-wheeler, remain on the scene and immediately get to safety. Pull your vehicle to the side of the road or somewhere a reasonable distance away from the wreck until emergency crews and police arrive. These kinds of trucks typically haul extensive loads, sometimes flammable cargo like ethanol, so the risk of spillage is great after an accident with an 18-wheeler. If an 18-wheeler does spill its contents and your vehicle is near the truck, you may be putting your life, and others lives at risk.
Call 911
Call 911 immediately if there are any injuries or fatalities in the accident. Police, first responders, and even state highway patrol will arrive to assess the situation. It is there when police will fill out an accident report and jot down the collision events.
Typically, police reports are available 14 days after the wreck occurred. Copies of the report can be requested for your records. This report will come in handy when taking your case to court.
Exchange Information
Once your vehicle is in a safe location a reasonable distance away from the wreck, make sure to exchange information with the truck driver and vice versa. Do the same with additional individuals involved in the wreck. This is important for filing a claim and may be needed later if you decide to file a lawsuit.
The information you should collect include the following:
Name
Phone number
Email address
Employer and their contact information
Insurance company and policy information
License plate number
US DOT number, typically found on the side of the truck
If there are witnesses around, collect their contact information, as well. These witnesses more than likely will be contacted to testify in your case.
Get Photographic Evidence
Taking photographic evidence is the next step following an 18-wheeler collision. Images are key evidence needed to build a claim and a case.
Here are all the items that can be photographed before the tow truck comes to take your damaged vehicle away:
Vehicles
Dents
Spilled Cargo
Debris
Road conditions
Traffic signs and signals
Recording evidence such as this is essential in building a strong case or claim. The driver's insurance or employers may turn fault against you, so having photographic evidence will ensure liability on their part.
Seek Medical Treatment
Once you're safe and have collected all the necessary information needed, seek medical treatment immediately. Usually an EMT, or a paramedic, will take you to the hospital right after the collision. Let the first responders examine your injuries, whether they be minor or severe.
If you don't go to the hospital via ambulance, it's highly recommended you seek treatment independently. Ignoring symptoms of injury such as pain, soreness, fatigue, etc., can be detrimental to your health. A doctor can conduct tests that find underlying injuries not already visible to the human eye.
These tests are also useful to have for your claim and case. Medical records document your injuries and any other conditions that came from the aftermath of the collision. Insurance companies will try and claim your injuries were there before the wreck – don't let them. Instead, obtain your medical records as evidence so you can prove the injuries were a result of the collision.
Call an Expert Truck Accident Attorney at Sutliff & Stout
The last and final step following an 18-wheeler accident is to call your truck accident lawyer. One of the first people to talk to you after an accident is an insurance adjuster, and they will try to get information from you to admit fault. Instead of giving them a statement, which you aren't required to do, call your truck accident lawyer. Your lawyer will help you draft a statement that best represents your situation.
The lawyers at Sutliff & Stout Law Firm are experienced truck accident attorneys who can protect you from insurance adjusters while navigating your 18-wheeler collision. Get the compensation you deserve with lawyers you can trust—Call 713-987-7111 for a no-obligation, free consultation for your truck accident case.