Essential Questions to Ask a Wrongful Death Lawyer About Your Case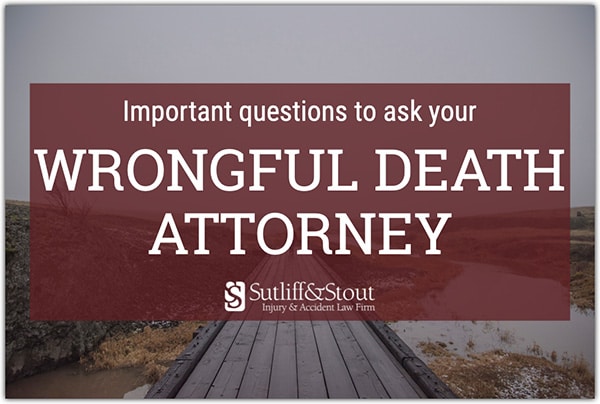 In Texas the immediate family members of people who were killed because of negligence are able to seek damages and hold the responsible party accountable by filing a wrongful death lawsuit.
Because damages claimed in wrongful death lawsuits are usually significant, insurance companies and lawyers for the at-fault party will do everything in they can to avoid being held responsible. For this reason, it's critical that the victim's family be represented by their own lawyers who have significant experience handling wrongful death claims.
If you or someone you know has lost a loved one in Texas, and you're considering filing a wrongful death lawsuit to hold the responsible party accountable, it's essential that you hire the best wrongful death attorney for you and for your case.
Below we've provided you with seven crucial questions to ask prospective Texas wrongful death lawyers. By asking these questions you can make an informed choice for legal representation.
7 Questions to Ask a Texas Wrongful Death Lawyer About Your Case
1. Do you think I have a case?
This is perhaps the most important question you can ask when interviewing Texas wrongful death lawyers. First, it will give you an idea of how successful your claims might be. After all, because a wrongful death lawsuit can serve as a reminder of the loved one you've lost, you may not be interested in pursuing a claim that is unlikely to be successful.
Second, asking this question will give you a chance to ask your lawyer "Can I rely on you to tell me your honest opinion rather than what you think I want to hear?" While it may seem obvious, making sure that your lawyer is prepared to be 100% honest with you 100% of the time is an important step when hiring any lawyer.
---
2. Have you handled cases similar to mine?
When you're looking to hire an attorney, and especially when you're looking to hire a Texas wrongful death attorney, it's a good practice to learn about the past successes and failures of the lawyer you are interviewing.
When you ask this question, you should be on the lookout for how many times the lawyer has taken a case to trial and what kinds of compensation he or she has won. Trials can be long and difficult, and it's important to that your lawyer has specific examples of how they faced and overcame challenges or were otherwise able to succeed.
Even more importantly, if there is something unique about your case it's critical to make sure your wrongful death lawyer has experience handling a variety of different situations. It's a good sign when your lawyer has specific examples of similar or other unique cases in the past. The longer a lawyer has been practicing, the more likely they are to have that experience.
---
3. Based on the facts of my case, what kinds of compensation do you plan to pursue?
The kinds of compensation available in a wrongful death lawsuit vary depending on the circumstances. In general, there are two broad categories of damages. The first includes compensation for the pain and suffering experienced by the deceased. The second is compensation that covers the losses experienced by the family of the deceased.
When you are hiring a Texas wrongful death lawyer, they should be able to tell you what specific kinds of damages are available based on your situation, like medical expenses or lost wages.
In your first meeting with the lawyer, it's unlikely they will be able to tell you exactly how much compensation you can receive. Estimating damage awards often requires further research into your situation and other similar incidents.
Your lawyer may, however, be able to provide information on the ranges of damages awarded in similar cases. If the lawyer has handled similar cases to yours, then they may be able to speak from personal experience on the kinds of awards they have gotten for their clients.
---
4. Outside of a financial settlement, will the lawsuit hold the responsible party accountable in any other ways?
Depending on the circumstances surrounding the wrongful death, the responsible party may be on the hook for criminal charges. Criminal charges are not brought by the family of the deceased and instead they are brought by a prosecutor on behalf of the state or federal government.
There are many other key differences between civil and criminal cases, including the burden of proof necessary for a finding of guilt. Your attorney will be able to provide you with more information regarding how the law applies to your case and any additional penalties the responsible party may be subject to.
---
5. As a wrongful death lawyer, how do you view your role in terms of helping to prevent similar tragedies?
In wrongful death cases, it can be a hassle if you and your lawyer are not on the same page. Asking your Texas wrongful death attorney how they view their role in helping prevent similar tragedies can help you determine if you are interested in working with them.
Having a lawyer who is dedicated to fighting against unsafe products or working conditions can help you rest assured that they will be on your side. Further, a commitment to preventing future tragedies indicates that the lawyer is probably familiar with the emotional nature of wrongful death cases.
---
6. How long will my case take and will it go to trial?
Wrongful death cases can be challenging because they may serve as a constant reminder of the loved one you've lost. Knowing how long the case may last can help you prepare for what is often a long process, as well as give you an idea of how much the lawsuit may end up costing.
Many insurance companies are interested in settling wrongful death lawsuits quickly, but this is not always the case. While a settlement may be completed in a matter of months, the lawsuit could take several years, especially if it goes to trial.
Whether a case goes to trial or not will depend on each case. More investigation is usually required to determine how likely it is that your case will go to trial.
---
7. Who will be handling my case?
Although many initial meetings are with a firm partner, that does not necessarily mean that they will be the one handling your case.
Often, young associate lawyers and paralegals will handle most of the documents in your case, and some of those associate lawyers may appear in court on your behalf.
That doesn't mean these lawyers will not do a good job or provide sufficient representation, but if you're uncomfortable with new attorneys working on your case it may be best to find a different firm.
When asking this question, make sure you clarify who will be handling your case on a day-to-day basis and who will be handling any court appearances. This can also help you avoid surprises down the line if you are unsure who your main contact will be within the firm.
---
Need to Hire a Wrongful Death Attorney?
If you've suffered the loss of a loved one in an accident, you shouldn't have to worry about anything else. At Sutliff & Stout, we have over a decade of experience helping grieving families through this trying time. Contact our us today for a free case review by our experienced Texas wrongful death attorneys.