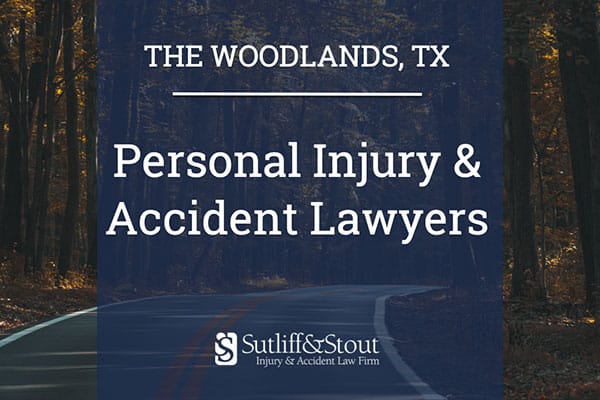 Thankfully, many accidents that occur in The Woodlands do not result in serious injuries.  However, when careless or negligent behavior results in injury-causing incidents, victims have the right to pursue full and fair compensation for their losses. 
If you or a loved one have suffered injuries due to an accident in or around The Woodlands, Texas, you should speak with an experienced personal injury attorney as soon as possible.  
This initial personal injury case review is 100% free, obligates you to nothing, and will allow you to understand your best legal course of action. 
A dedicated accident injury lawyer at Sutliff & Stout will provide legal advice to help you understand your options for pursuing financial compensation for your losses.  
---
We are proud to be rated among the best injury & accident lawyers in The Woodlands

---
Should I Go to the Hospital After an Accident in The Woodlands?
Car accident victims should always go to the hospital immediately after a crash if they are in need of emergency medical attention. But, victims with non-life-threatening injuries should also be evaluated at a hospital following an accident. 
It's true that victims are usually able to tell that they have sustained an injury after the crash. But, some victims do not notice symptoms of their injuries for hours or even days after an accident.
Hospitals in The Woodlands
There are a number of hospitals in The Woodlands area ready to provide care following an accident:  
Should I See a Chiropractor After an Auto Accident?
If you were the victim in a crash caused by someone else being reckless, then you should most likely see an accident injury chiropractor after the incident.
Chiropractors can treat a number of different health problems that follow being in an accident.
The severity of the crash has a big impact on the severity of the injuries, but even in minor car accidents, damage can be done to the body.
It's always recommended that you visit a medical professional following a major accident. Your primary care physician can help you with your medical decisions following a major injury, like those common in car accidents.
Chiropractors in The Woodlands
The Woodlands is home to many chiropractic care providers, including:  
How Long Should I Go To a Chiropractor After An Accident?
After an accident, you should go visit a medical professional, including a chiropractor, as soon as possible. In addition, you should consult with your primary care physician regarding the best treatment for you.
Chiropractic treatment is typically covered by a car accident settlement. It's common for victims of a car accident to visit a chiropractor if they suffer spine or back injuries. The average settlement for a rear-end collision can fall anywhere between $3,000-$20,000 dollars ranging on a variety of factors including damages, injuries, and medical bills accrued as a result of the crash.
What if I Need to Rent a Car?
Repairs can leave you without a car longer than expected. A rental car gives you the flexibility to go anywhere you need to at any time, without having to coordinate schedules with family or friends. 
Whether you or the other party was at fault in the accident, sometimes you need a rental right away before the insurance details can be worked out.  
There are many car rental agencies in The Woodlands ready to help you with a rental car:   
Car Rental Agencies in The Woodlands
Common Types of Personal Injury Claims in The Woodlands, Texas
There are many different types of personal injury claims in The Woodlands, Texas. Some common types of personal injury lawsuits that we also handle include but are not limited to the following:
Interstate 45 Ranked as Second-Deadliest Highway in U.S.
The Woodlands township is located 28 miles north of Houston along Interstate 45 — one of the most heavily-trafficked highways in the nation, traveled by over 300,000 drivers per day.  
An analysis of federal road safety data conducted by the finance and consumer research firm ValuePenguin found that Interstate 45 is the second-most dangerous road in the U.S, second only to U.S. Highway 99 in California.  
Looking at fatal crashes from 2011 to 2015, the analysts found I-45 averaged 56.5 fatal accidents per 100 miles of roadway.  Along I-45, the most dangerous city was Houston, with 51 fatal wrecks from 2011 to 2015.
According to the data,  I-45 also scored in the top five in the nation for the number of  DUI-related crashes and fatal incidents at nighttime.
Contact an Aggressive Personal Injury Attorney in The Woodlands, Texas
Were you injured in an accident?  An aggressive personal injury law firm in The Woodlands, Texas can help with your claim.  The dedicated advocates at Sutliff & Stout, Injury & Accident Law Firm have years of experience assisting Texas residents and their families after devastating personal injuries.  
Contact us to obtain a free initial consultation to learn more about the services we provide to clients in The Woodlands.   
Need answers about your injury claim?
Submit the short form below to get a free case review from Sutliff & Stout.