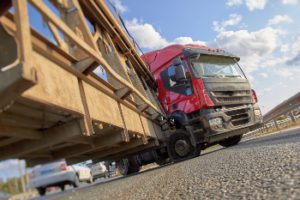 While all traffic accidents are unsettling, semi-truck accidents are certainly at the top of the list for most devastating. Those involved in semi-truck accidents often endure debilitating or fatal injuries, and many don't know how they'll collect compensation or who caused the accident because of how fast it happened. Between disputing your claim, pinpointing liability, and negotiating with insurance companies, Sutliff & Stout will be there to assist you.
Our semi-truck accident attorneys will conduct a detailed investigation to determine what led to your accident and why. After a full analysis of the facts and evidence we collect, it may be concluded that one or several additional parties are liable for your accident and injuries—either independently or jointly. Review the following information to learn who might be liable for your semi-truck accident in Texas.
We want to help you too.
Submit the short form below to get a free case review.
Truck Driver
All drivers on the roads are required to follow the law—no speeding, no driving under the influence, no texting while driving, and so on. In addition to these general driving rules, semi-truck drivers must be dutiful to hours of service (HOS) regulations established by the Federal Motor Carrier Safety Administration (FMCSA). Some of these rules include:
Mandatory 30-minute break after 8 hours on duty
Maximum of 11 hours driving after 10 hours off-duty
No longer than 60 hours on duty over a seven-day period
No longer than 70 hours on duty over an eight-day period
Maintain a driver's log
Unfortunately, some semi-truck drivers work outside their hours of service to stay on schedule or increase their pay. This can cause fatigue and drowsiness, interfering with a driver's ability to react in time to changing conditions. Semi-truck drivers may also engage in risky driving behaviors like speeding, distracted driving, tailgating, and unsafe lane changes. All these actions may contribute to a negligence claim.
Truck Owner
While it's rare for a truck owner to hold liability, it does happen. Smaller trucking companies often hire independent contractors or rent trucks to perform their work; therefore, because they don't own the truck, the owner may share fault if the truck or driver was unsafe. Truck owners have a responsibility to maintain their vehicles regularly, including inspecting the tires, engine, and other internal and external workings of the truck. Failure to service or repair can increase the chances of the truck breaking down and cause a serious accident.
Trucking Company
Depending on the circumstances, you may be able to sue a trucking company because they're responsible for their employees. Like truck drivers, trucking companies have an obligation to meet industry standards. Trucking companies must comply with several safety requirements, the two main ones being hiring qualified drivers and having proper safety management.
Drivers must be at least 21 years of age, understand the English language, undergo adequate training, hold a valid commercial driver's license, complete a driver's test, and pass a series of medical condition tests. Trucking companies must also have a safe delivery program in place while overseeing that the truck is maintained frequently. If a driver acts negligently within their scope of work, a skilled attorney can look into how a trucking company may have played a part in your accident.
Cargo Loader and Shipping Company
It's critical for cargo loaders to properly secure and load all shipments before drivers leave on a trip. Cargo loaders should have a quality securement system, using tie-downs and weight packing techniques to make certain the load is even. When cargo is improperly loaded, the contents can shift, causing the truck to be disproportionate in weight and making it more difficult for drivers to control the truck. If the shipment is carrying hazardous materials, it's possible for them to spill out onto the road and affect other drivers.
Truck Manufacturer/ Parts Maker
Manufacturers and parts makers are legally required to verify the functionality and safeness of their products and notify users of any recalls or problems. This is especially true for manufacturers that provide parts and work on semi-trucks, as even the smallest defect can lead to a malfunction. The weight and size, as well as the long travel distances, make it necessary for semi-trucks to be built on solid, heavy-duty foundations with working parts. Typically, semi-trucks have defects in tires, brake systems, and steering components. If a defective part caused your accident, you may have grounds for a product liability claim.
Government Entities 
Dangerous roadway design or highway conditions can give rise to a truck accident. When government agencies or the private companies they contract poorly maintain roads, the outcome can be disastrous. Whether it's adequate lighting, filling potholes, or cleaning up construction debris, government entities must consistently address potential issues on the roads. Identifying the agency responsible is critical so that the correct party is held accountable. Work with a firm that knows the most effective and strategic ways to handle your claim so you can recover the compensation you need to move past this stressful time.
Texas Law Firm Specializing in Semi-Truck Accident Cases 
As you can see, there are a multitude of parties that may hold fault for your accident. It's imperative that you work with a competent attorney to expedite your claim and determine what or who caused your accident. At Sutliff & Stout, our legal team has extensive experience handling these complex personal injury cases. We're the team that residents of Texas turn to when they need professional and honest legal counsel.
If you or a loved one has been injured in a semi-truck accident, call (713) 987-7111 or complete a contact form for a free, no-obligation case review today. Trust that we'll fight for your right to secure the compensation you deserve.