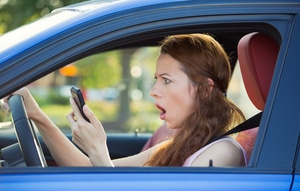 Bad drivers are a challenge in every state, but they plague some worse than others. Texas, unfortunately, is ranked as one of the worst states in the country. Statistics gathered by the National Highway Traffic Safety Administration (NTSA) are utilized by carinsurancecomparison.com to classify the top ten states with the worst drivers.
In the study, car crashes that resulted in fatalities are the only collisions that are considered. While the Insurance Institute for Highway Safety (IIHS) shows car accident deaths occur about half as often as they did in 1975, there is still room for improvement to keep drivers in Texas and across the country safe. While being a bad driver is often something people joke about, this is a severe issue that causes thousands of deaths annually.
We want to help you too.
Submit the short form below to get a free case review.
Report Shows Texas Ranks #5 for Worst Drivers in the Country
There are over 40,000 deaths each year in the U.S. that are caused by car accidents. In the report that ranks each state, the factors considered include:
The fatality rate for every 100,000,000 miles driven
Failure to obey traffic laws like wearing a seat belt or using traffic signals
Speeding – the number of traffic fatalities caused by excessive speed
Careless driving – the number of bicycle and pedestrian deaths per state
Drunk driving – the number of fatal collisions that occurred due to alcohol use
With this information, each state is scored and ranked accordingly. In the overall rankings, the Lone Star State ranked #5. Texas ranked among the worst for drunk driving at #2, and low among the best for speeding at #29. According to the report,
"This is the sixth time The Lone Star State has received its worst ranking for Drunk Driving, having made it to this prominent position in 2013, 2014, 2015, 2016, and 2017."
While Texas ranks #5 overall, perhaps the most alarming fact on this report is that it's the worst state with the most overall traffic deaths.
How Does Houston Rank for Bad Drivers?
Statistics show that bad drivers are a big problem in Texas. Despite stay-at-home orders that caused traffic to plummet earlier this year, Texas has continued its years-long streak with at least one person losing their life in a car crash every day on a public highway. In Harris County, there were 395 fatal car crashes with 418 fatalities in 2019, compared to 369 crashes with 393 deaths the year before. Houston is the most populated city in Texas, so it's not surprising that there are a high number of collisions. However, drivers should take heed and be vigilant while on the road to avoid a crash.
What Issues Contribute Most to Bad Drivers in Texas?
The worst contributing factor to deadly car accidents involves drinking and driving. In 2019, there were 3,603 car crashes involving alcohol use in Harris County, according to the Texas Department of Transportation. For Texas overall, there were 866 people killed in a car crash where a driver was under the influence of alcohol. Until we reduce the number of drunk driving accidents on the roads each year, Texas will continue to rank as one of the worst states for bad drivers.
Distracted driving, especially texting and driving, is another major factor contributing to bad drivers in Texas. In 2019, 377 people lost their lives from distracted driving. While this rate has gone down by 6% from 2018, this remains a significant threat to safe driving in Texas.
Contact Experienced Injury Lawyers after a Car Accident in Houston
Car crashes can happen anywhere, but reports show a significant amount across the state of Texas. Car accidents injure not only the victims and their families but also society as a whole when human lives are lost in a situation that was entirely preventable. If you've been injured in a car accident in Houston because of a bad driver's careless actions, be sure to speak with a knowledgeable car accident lawyer to guarantee that your rights are protected.
Experienced car accident attorneys at Sutliff & Stout are dedicated to serving clients who have been injured in collisions in Houston. Our lawyers are board-certified in Personal Injury Trial Law by the Texas Board of Legal Specialization. To speak with an experienced lawyer at Sutliff & Stout about your car accident case, schedule a free consultation by calling (713) 987-7111 or complete a contact form.