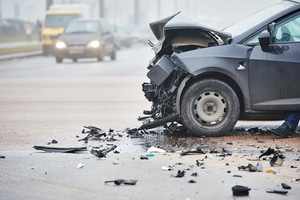 Countless people are involved in car accidents throughout Texas each year, and most individuals will experience a vehicular collision at least once in their lifetimes. Many Texas car accidents are caused by conditions that are out of drivers' control, like bad weather, sun glare, and hazardous road conditions. However, the majority are caused by reasons that can be controlled, like driving distracted, under the influence, aggressively, or fatigued.
A car accident resulting in severe injuries can affect a person's life, and the lives of their families, for years to come. Car accident victims often experience tremendous financial, physical, and emotional implications that last well into the future.
Each year, the Texas Department of Transportation provides detailed and insightful car accident statistics. It's important to acknowledge that these statistics represent real people who have likely endured significant damage that affected their lives for months or years.
We want to help you too.
Submit the short form below to get a free case review.
How Many Accidents Occur Each Year in Texas?
According to the National Highway Traffic Safety Administration, 36,560 people were killed in vehicular accidents in 2018. While this number is about 1,000 less than the year before, the number of fatal car accidents in Texas is alarming. The Texas Motor Vehicle Traffic Crash Facts for 2018 show that a crash on Texas roads occurred about once every 58 seconds.
Other crash statistics in Texas include:
There were 3,652 motor vehicle traffic fatalities in 2018
There were 12,186 severe injuries related to traffic crashes
There were 1.29 deaths per hundred million vehicle miles traveled
There were one person dies in a fatal crash every 2 hours 24 minutes
One person is injured in a collision every 2 hours 7 minutes
There were no days that did not result in a traffic-related fatality in 2018. While the death toll decreased by 5.84 percent from 2018 to 2017, car accidents in Texas occur much more frequently than the national average. For the U.S. total, there were 11.2 deaths per 100,000 population in 2018. Texas' rate was higher at 12.7 deaths per 100,000 people.
Why Are Texas' Crash Statistics Cause for Concern?
These crash statistics are a significant concern for Texas drivers. These numbers signal that law enforcement, state officials, and drivers must all apply increased alertness and caution to driving practices and policies. The Texas Department of Transportation (TxDOT) has developed safety campaigns to raise awareness of Texas' high crash statistics. These campaigns to promote safe driving, sharing the road, traveling in inclement weather, and more. They were also created with the expectation that drivers will drive with increased caution.
What Are Common Causes of Car Accidents in Houston?
Common causes of car accidents in Houston and across the State of Texas include distracted driving, speeding, and driving under the influence. These are primary causes of anxiety for drivers across the state.
The Texas Department of Transportation reports the leading causes of statewide car accidents in 2017 involved:
Excessive speeding: 139,336 crashes
Driving distracted: 89,261 crashes
Failure to drive in lane: 37,545 crashes
Failure to yield turning left: 32,035 crashes
Failure to yield at a stop sign: 26,837 crashes
Following the driver ahead too closely: 25,022 crashes
Driving under the influence of alcohol: 13,895 crashes
Drivers under the influence of drugs or alcohol continue to be a peril on Texas roadways. Still, driving distracted using cellphones, navigation systems, or talking to passengers while behind the wheel has become more of a threat.
Call Experienced Car Accident Attorneys After an Accident in Houston
Drivers in Houston can help stay protected on the road by being alert and cautious. Unfortunately, even the most vigilant drivers can experience a car accident caused by another person's negligence on the road. If you or a family member have been severely injured in a car crash in Houston, the car accident attorneys at Sutliff & Stout can help.
Sutliff & Stout lawyers are board certified in Personal Injury Trial Law by the Texas Board of Legal Specialization. They have helped countless accident victims recover the compensation they need to recover from their losses. To speak with an experienced Houston car accident attorney at Sutliff & Stout, schedule a free consultation by calling (713) 987-7111 or complete our contact form.