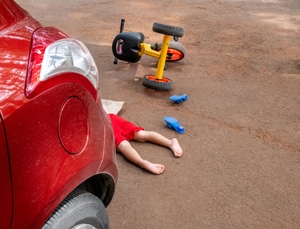 With children out of school for an extended time due to the coronavirus crisis, many families across Texas have welcomed the warmer weather as an excuse to get outside. Activities outside in the fresh air are the perfect way to cut down screen time and help kids stay active while maintaining safe social distancing. It's also a reprieve for parents to get a couple of minutes of quiet time.
While outdoor activities can provide exercise and fresh air, it can also present a threat and increases the chance of accidental injuries for children. In many instances, children hurt while playing outside are eligible to claim compensation for accident-related costs. If you're a parent whose child was injured when playing outside, you should contact an attorney to explore your legal options. The following describes situations when children can be hurt by the negligence of others when playing outside:
We want to help you too.
Submit the short form below to get a free case review.
Motor Vehicle Accidents Present a Great Risk
Children playing outside often means riding their bikes in the street, drawing with sidewalk chalk, or playing sports with other kids in the neighborhood. As careful as you, as a parent, may warn your children about the hazards of being outside, danger can't always be evaded. Some activities that take place on the street can put children in the way of reckless cars speeding by. Unfortunately, this puts children at risk of being injured in a pedestrian accident. If your child was injured because of a driver's negligent driving behaviors, like driving distracted or speeding, your family might be able to recover compensation.
What Should I Do if My Child Suffers an Outdoor Injury in Texas?
If your child's been injured in an accident while playing outside, there are specific steps to follow that ensure your child's rights are protected. Right after the accident occurs, be sure to do the following:
Seek Immediate Medical Attention
You must take your child to the doctor or a hospital immediately after the accident for their health's sake and for any injury claim that you may pursue. The sooner that your child's injuries are identified and treated, the less likely the injuries will cause long-term complications. The medical records that document the doctor or hospital visit will help you lawyer secure full and fair reimbursement for damages your child suffered.
Make Record of Your Child's Recovery
It's essential to document your child's symptoms and injuries as they go through treatment and heal. Take detailed notes of how your child's injuries impact their routines and lives on a daily basis. Describe signs of physical pain, emotional pain like depression, missed school and appointments, and developmental problems that you may observe. Be sure not to miss any follow-up visits for medical treatment and urge your child to become actively involved in their medical care.
Hire a Trusted Attorney As Soon As Possible
Lastly, you must consult with an attorney as soon as possible after your child's outdoor injury. An experienced Texas personal injury lawyer can help you understand your legal options and advise you on the best way to proceed. Retaining a knowledgeable injury lawyer will help remove the stress of filing an injury claim as they will handle the details so you can concentrate on your child's health and well-being.
Schedule a Free Consultation with Experienced Houston Personal Injury Attorneys
If your child was injured while playing outside in Texas, it's strongly advised that you partner with an experienced injury attorney as soon as you can. At Sutliff & Stout, our Board Certified personal injury lawyers are dedicated to helping families in Houston and across the Texas state by protecting their rights and obtaining the compensation they need to recover and move their lives forward. Since 2008, our attorneys have won hundreds of millions in recoveries for injured victims across Texas. To schedule a free consultation to speak with a skilled personal injury attorney, complete our contact form or call (713) 987-7111.