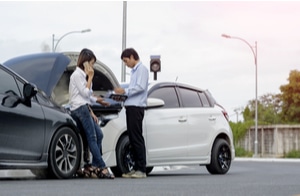 Motor vehicle accidents can be a terrifying experience for anyone to go through. If you've been injured in a car accident in Houston, you'll likely have questions about what to do next. Gathering evidence is an essential step after a car accident, including eyewitness testimony. Both drivers should report any car accident they're involved in and become familiar with the claims process that follows.
Eye-witness testimony can be extremely beneficial to your claim because oftentimes the at-fault driver will try to lie in order to avoid responsibly. The following provides an overview of what you should know before talking to witnesses after a car accident in Houston.
When Should You Approach a Witness After a Car Crash in Houston?
After a car crash in Houston, you should approach a witness if these circumstances apply:
Approaching the witness will not put you in harm's way. For example, you do not want to cross traffic lanes on foot to attain a witness testimony.
The witness is still at the scene of the accident. You do not want to leave the scene of the accident before you've filed a police report to secure witness testimony.
You're not severely injured. If you've sustained injuries in the car accident, do not put extra strain on yourself to approach a witness.
We want to help you too.
Submit the short form below to get a free case review.
What Makes a Witness Credible in a Car Accident Claim?
While eyewitness statements can be invaluable in your Houston car accident claim or lawsuit, the witness must be credible for their statement to carry weight. Some examples of credible traits include:
They are not related to you or the other driver
They have no personal interest in the claim
They actually saw the accident
They do not have any impairments that may affect what they observed
For example, if a witness was intoxicated, their testimony could easily questioned.
What Information Should I Collect from a Witness After a Car Accident?
When approaching a witness after a car accident, there's specific information you want to collect. For their testimony to be useful evidence in your car accident claim, valuable information you want to secure in their statement includes:
Their name and contact information
A descriptive retelling of the accident they witnessed
Ask if you can record their testimony, so nothing is forgotten
You should also request that the witness provide testimony to the police officer who responds to the car accident for the police report. Before the witness leaves, ask if you may contact them in the future to follow up. If you get their permission, they won't be surprised if you need to reach out to them later for more information regarding the crash.
Dedicated Houston Car Accident Attorneys Can Help
If you or a loved one have been in a car accident in Houston, it's incredibly beneficial to obtain statements from any witnesses to the collision. If you sustained injuries and are unable to do this, car accident lawyers at Sutliff & Stout can help by discovering witnesses and collecting testimonies with other evidence to benefit your claim. It's essential that you do not delay in securing trusted legal representation after your car accident. The sooner you get in touch with us, the more effective we can be.
At Sutliff & Stout, we believe that every individual is entitled to the highest quality of legal representation. Our lawyers are Board Certified in Personal Injury Law by the Texas Board of Legal Specialization, an accomplishment achieved by less than 7% of Texas attorneys. Our team of car accident attorneys works tirelessly to secure compensation for injuries, property damage, pain and suffering, and other losses you've endured.
To speak with an experienced personal injury attorney to discuss your car accident case, schedule a free consultation by calling (713) 987-7111 or complete our contact form.