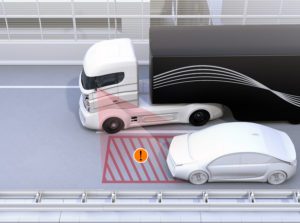 Blind spots are areas of the road that drivers cannot see through their mirrors. While every vehicle has blind spots, large vehicles, such as commercial trucks, have very large blind spots. And unfortunately, these large, heavy vehicles pose some of the biggest risks on the road, causing serious damage when they get into accidents with passenger vehicles. If you were in a trucker's blind spot, you may be wondering if you are partly at fault for the accident. Determining fault is applicable to every personal injury case, which is why it's best to have an expert attorney on your side. Here is some important information to know about accidents involving large trucks and blind spots.
What To Know About Blind Spots On A Truck
Unlike passenger vehicles, trucks have a variety of blind spots. These include:
Directly in front of the truck, extending about 20 feet
Below and behind the truck's window
Directly behind the back of the truck, extending for about 30 feet
On the right side of the trucks' cab, extending across 2-3 lanes
The physical dimensions and size of commercial trucks are responsible for these significant blind spots. While extended mirrors can assist in minimizing the scope of these blind spots, many trucks do not have them installed. When drivers are occupying a trucks' blind spots, they are essentially invisible to the truck driver. 
The blind spot immediately behind a truck's trailer can range anywhere from 30-200 feet. It can range so wildly due to the varying sizes of trailers that are pulled by these large trucks. In general, drivers should remember that when driving behind a large truck, if you can not see their mirrors, the truck driver can not see you.
Large trucks generally have blind spots directly in front of their nose, directly behind them, and on their sides close to the cab.
What are the blind spots of most trucks and large vehicles?
It's important to remember that if you can't see the driver, they probably can't see you. Trucks generally have large blind spots; 20 feet in front of the truck's cab and 30 feet directly behind a truck's trailer. Directly next to the truck's cab and behind it is also considered a potential blind spot.
Most large trucks have a blind spot directly behind their trailer that is around 30 feet long. However, in certain conditions and depending on the size of the cargo, a truck's rear blind spot can extend up to 100 feet.
We want to help you too.
Submit the short form below to get a free case review.
The Common Causes of Blind Spot Truck Accidents
Most commonly, blind spot accidents occur as a result of the driver's inability to see a motor vehicle. Some of the most common factors that contribute to these accidents include:
A truck tailgating another car
A truck driver failing to check their mirrors before switching lanes
A driver's lack of knowledge about trucks' blind spots
A driver spending too much time in a truck's blind spot, such as passing too slowly
A truck driver operating their vehicle in an aggressive manner.
These are some of the most common culprits present in truck accidents. However, other factors, such as distracted driving behaviors, can also contribute to truck accidents.
How Can You Reduce Your Vehicle's Blind Spot? 
One way to minimize the blind spots on your vehicle is to adjust your mirrors correctly. To do this, start by moving your rearview mirror until you can see directly behind you, seeing as much as the rear window as you can.
Determining Fault in Truck Accidents
In regard to deterring fault, truck accidents are rarely straightforward. In many cases, both the truck driver and driver can contribute to the accident. Since Texas is a comparative fault state, both parties can legally be found to have contributed to the accident. In short, if the victim in the accident is found to be 51% or more at fault for the accident, they are ineligible for receiving any compensation for their damages or injuries. Additionally, if they are found at-fault but below this bar, their compensation will be reduced by their proportion of fault.
For individuals involved in truck accidents, this poses serious implications. In comparative fault states like Texas, insurance companies are constantly looking for ways to assign fault to their policyholders. They will do anything they can to gather information about the incident and use it against the driver. As a victim in a truck accident, this makes it essential to have a skilled attorney on your side. An experienced personal injury lawyer can protect you from manipulative tactics employed by insurance companies and ensure your rights are protected.
Contact the Personal Injury Lawyers at Sutliff & Stout
Car accidents can be extremely unnerving experiences. However, the best thing you can do in the wake of an accident is act as soon as possible. If you have been involved in a truck accident in Houston, it's essential to seek legal counsel from a skilled personal injury lawyer. At Sutliff & Stout, we understand the stress accompanied by car accidents and are dedicated to taking a personalized approach to every case. Our firm has been recognized as one of the top 3 personal injury law firms in Houston, and our team of Houston car accident lawyers have helped thousands of individuals with their car accident claims.
If you are looking to discuss your car accident case with a personal injury lawyer, the team at Sutliff & Stout is here to help. Call us today at (713) 405-1263 or contact us online to discuss your injury or car accident claim.