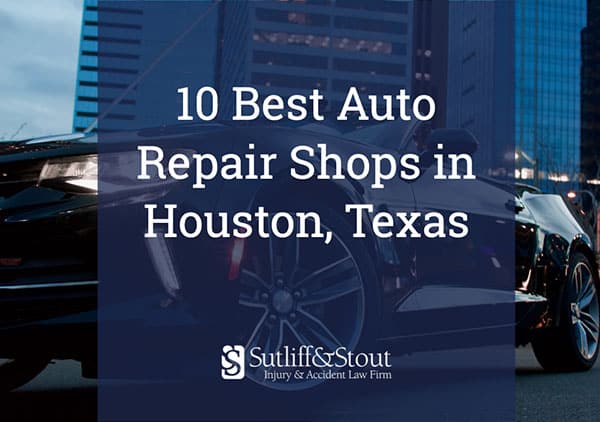 Accidents on the road happen to everyone; a flat tire a few blocks from home, a scratched fender in a parking lot, or a collision during a road trip. When they happen, it's good to know that help is just a call or click away.
The one constant is that your car needs repaired and you don't know where to turn. There are just so many options in front of you it's difficult to know which one is the best for the job you need done. 
Here, we've done most of the leg work for you by researching and ranking 10 of the best auto body repair shops in Houston. Just bookmark this page for later and find the perfect fit for you.


10 Best Auto Body Repair Shops in Houston, TX
[one_half]
[/one_half] [one_half_last]
Poutous Auto Repair
8911 Mills Rd Houston, TX 77064
Poutous Auto Repair boasts full-service auto repairs in the Houston, Texas area. They offer towing to breaks and even work on imported cars and trucks. They say that their experts are able to repair even the most challenging problems. 
Visit their website: https://www.poutousautorepair.com/
---
Premier Auto Service
7210 Senate Ave Houston, TX 77040
Premier Auto Service is a long running company servicing cars in the Houston area since 1994. They have a full service shop with ASE certified technicians. They have amazing testimonials from their long-standing customers. 
Read more on their website: https://premierautoservicejv.com/
---
Ron's Downtown Auto Service
2701 Bagby Houston, TX 77006
Serving their community since 1994, Ron's Downtown Auto Service has a lasting reputation with their customers. They make sure all work is approved by you before they start so there are no surprises on your bill. 
Find out more: https://www.ronsdowntownauto.com/
---
Westchase Auto Repair Center
10611 Westheimer Rd. Houston, TX 77042
A family owned and operated business, Westchase Auto Repair Center offers friendly service that gives a hometown touch. Even though they've only been open for two years they have a collection of great reviews and are quick to reply. 
Learn more about them here: https://www.westchaseautorepaircenter.com/
---
Regency Auto Repair
8399 Alameda Rd. suite 1, Houston, TX 77054
Regency Auto Repair specializes  in paint and body work along with transmissions and even tires and struts. 
Read more on their website: https://www.regencyautorepairs.com/
---
McDaniel Auto Care
2343 S. Kirkwood Rd. Houston, TX 77077
McDaniel Auto Care has been around since 2012 and offers great repairs to their friends and neighbors in the Houston area. They boast that they are able to get you on the road faster with high-end technology and excellent staff. 
Visit their website: https://mcdanielautocare.com/
---
J&T Automotive
9046 Westview Dr. Houston, TX 77055
Specializing in European style cars since 1989 they have a longstanding relationship with their community. They are also equipped to handle domestic cars and are independently owned. 
Learn more: https://www.jntautomotive.com/contact-us/
---
Mario's Automotive and Transmission Shop
6710 Avenue W Houston, TX 77011
Family owned and operated for 30 years, Mario's Automotive is a friendly place that is ready to help. They are in a convenient location just 10 minutes from Minute Maid Park and have a child friendly waiting area. 
Find out more: https://www.mariosautomotiveinc.com/contactus/
---
Honest 1 Auto Care
7640 HWY 6 North Houston, TX 77095
Locally owned by a husband and wife, both with a history in the oil and gas industry, Honest 1 Auto Care is a great place to go for a repair. They offer same day service and a local shuttle in case you can't wait at the shop. They have a vast array of services and a three year warranty.
Read more: https://www.honest1copperfield.com/
---
Santa Ana Auto Repair
5512 W. 34th Street, Houston, TX 77092
Family owned and operated in the Houston area for 25 years, Santa Ana Auto Repair is ready to help you with your vehicle. Their ASE certified and Master mechanics are ready to serve and are able to work on a number of different types of vehicles, including hybrids. 
Visit their website to learn more: https://santaanaautocare.com
---
We hope that our list can help you find the technician right for you. If you or a loved one have been injured in a collision did you know you may be entitled to compensation? 
Fill out your free case evaluation today. Here at Sutliff & Stout we are proud to offer injury services and are happy to get you the compensation you deserve.