There are generally two types of claims after a car accident–property damage claim and a bodily injury claim. If you were in a car accident and you were physically hurt, you will need to file a "bodily injury claim" in order to get help with your medical bills and other damages. This type of claim can be filed against the at-fault driver's insurance company or your own insurance company if you have UIM/UM coverage. "Bodily injury claim" is the official insurance term that is used to refer to the specific part of your claim that involves your physical injuries.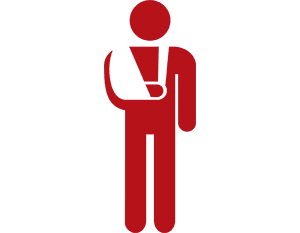 There's typically two components to help you recover damages after a car accident, "property damage claims" and "bodily injury claims." Because the process to settle these claims is very different and involves many different factors and costs, insurance companies will usually treat these claims separately and assign different representatives, or "adjusters," to handle each claim you file with them.
You'll likely deal with at least two different insurance adjusters for each claim. But chances are that you'll be dealing with multiple adjusters for just your bodily injury claim, which can get especially frustrating and confusing. This is because bodily injury claim adjusters are often overworked or because they specialize in different processes of the bodily injury claim process. Often, your bodily injury claim adjuster will change if your injuries worsen or if you decide to file suit against the at-fault party.
In Texas, the minimum property damage policy coverage is $25,000. The minimum bodily injury policy coverage is $30,000 per person and $60,000 per accident. So assuming the person who hit you is not uninsured, you at least have this amount of coverage for your injuries. If the person is uninsured or the value of your damages exceed the value of the at-fault person's policy, you can make a claim against your insurance company, assuming you have UIM/UM.
Should I file a lawsuit?
For property damage claims where no physical injury is involved, we advise our clients to try to resolve the claim through the claims process with the at-fault insurance company of their own insurance company. Generally speaking, assuming liability is not in dispute, there is little a lawyer can do to help with your property damage claim.
For bodily injury claims however, many more complicated factors play a role in getting a fair settlement to cover your current and future healthcare needs. In Texas, the statute of limitations for personal injury cases gives you two years (in some cases the timeline can be reduced so don't wait to speak with a lawyer) from the date you were injured to file a lawsuit against the person who was at fault.
What should I consider when thinking about filing a lawsuit?
We highly recommend that you at least consult with a qualified personal injury lawyer before proceeding with your claim or lawsuit. Here are some general things that you may want to discuss with your lawyer:
Proportionate responsibility. If the person or company you are filing a claim against argues that you are to blame, or partly to blame for your injuries, it can affect your compensation if you are found to have some degree of liability in the accident.
If you are found partly to blame, Texas follows a "modified comparative negligence rule" that will likely reduce the amount of compensation you get by an amount that is equal to the percentage of your fault in the accident (for example, you were rear ended, but one of your brake lights was not working).
If you're found to be more than 50 percent responsible for the auto accident, Texas law says you can't collect anything at all from the at-fault party.
Even if you're not partially to blame, the insurance adjuster of the at-fault driver's insurance company may mention partial blame while negotiating your settlement.
If I don't file a lawsuit, should I still get a lawyer to handle my bodily injury claim?
We strongly advise that you speak to a lawyer to decide whether you would benefit from the services of a personal injury lawyer. In some cases it doesn't make sense to hire a lawyer; whereas, in other cases it does. We deal with all types of complicated bodily injury claims in Texas every year and for these types of cases it is best for the person to have a lawyer. If you decide to handle the case on your own, here are some things to remember from our collective experience and expertise in working on these types of cases:
Always communicate in writing and be careful about what you say and who you say it to as part of the claim process.
Always provide the appropriate parties with the relevant paperwork and legal information, such as billing records, medical records, police reports, etc. When providing the paperwork, do not give your personal opinions about the same.
Document and save all of your records related to your medical expenses. This includes all of your expenses or claims from your health insurer if you received reimbursement from them related to the car accident.
Make sure you know that if your health insurance company pays for your medical expenses related to your car accident, you will have to pay your insurance company back if you get money back from the at-fault driver's insurance company. This amount can be negotiated, but cannot be ignored.
Always make copies of everything you send out. For any paperwork that you submit, make a copy and keep the original for your own records whenever possible.
Do not give a recorded statement unless it is to your own insurance company.
Do not try to negotiate a settlement until you know what the full extent of your injuries are and the estimated cost to treat such injuries. This can include the cost of future treatment and whether or not such treatment will affect your ability to work down the road.
The insurance company will likely want to get releases from your lien holders before giving you any money, or they will try to make a check payable to you and the lien holders as well.
If you are feeling overwhelmed or insecure about the process at any point, seek the advice of a legal expert. A qualified lawyer specializing in car accidents can help you navigate through the process and give you peace of mind as you work through the system together.