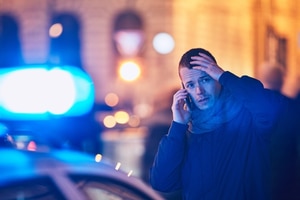 Under certain circumstances (e.g. when you are in close proximity to the injury of a family member), the family of an injured accident victim can pursue compensation for mental anguish damages for the injury of a close family member. Texas law states:
A bystander who witnesses a negligently inflicted serious or fatal injury may recover for mental anguish if:
(1) The bystander was located near the scene of the accident as contrasted with one who was a distance away from it.
(2) The shock resulted from a direct emotional impact upon the bystander from the sensory and contemporaneous observance of the accident, as contrasted with learning of the accident from others after its occurrence.
(3) The bystander and the victim were closely related, as contrasted with an absence of any relationship or the presence of only a distant relationship.
We want to help you too.
Submit the short form below to get a free case review.
What's the Difference Between a Direct and a Derivative Claim?
A direct claim is centered around the injured victim and their legal right to pursue compensation for their injuries and other losses due to another party's negligent actions. A derivative claim benefits the interests of individuals other than the injured victim. For example, wrongful death claims are derivative because the civil damages go to someone else other than the victim of the accident. In Texas, bystander claims work the same as wrongful death claims and are also derivative.
When Can a Bystander File a Derivative Claim in Texas?
Under Texas law, only specific individuals are qualified to file a bystander claim after a traumatic accident. The plaintiff must be closely related in order to make this type of claim. a family member of the person who was injured in the accident.
Texas courts do not require that the claimant lives in the same household as the injured victim when the accident occurred. However, the plaintiff must provide specific proof standards to demonstrate to the court they were negatively affected before qualifying for damages.
Call Houston's Top-Rated Accident Attorneys for Help with Your Bystander Claim
If you've witnessed your loved one suffer a traumatic accident, the personal injury attorneys at Sutliff & Stout can help. As attorneys Board Certified in Personal Injury Trial Law by the Texas Board of Legal Specialization, we understand the intricate laws surrounding Texas's derivative claims. To speak with a seasoned attorney at Sutliff & Stout to restore your financial and emotional wellbeing, schedule a free consultation by calling (713) 987-7111 or complete our contact form.