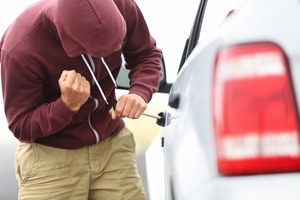 If your rental car in Texas is stolen while in your possession, what do you do? Despite the sophisticated anti-theft programming that many vehicles have today, auto theft is still a severe problem in the U.S. In fact, the National Insurance Crime Bureau reports that over 92,000 rental cars were stolen between 2015 and 2018. Four out of five of the vehicles most commonly stolen in 2018 were pickup trucks, with Ford pickups taking the lead in Texas. If you purchased the additional insurance from the rental company, that might help cover some of the costs. Unfortunately, if the situation is handled effectively, you may still be held liable for much of the charges.
If your rental car was stolen in Texas, you must act quickly after you discover the theft. Keep the following five steps in mind to best handle this unfortunate situation should it ever happen to you:
We want to help you too.
Submit the short form below to get a free case review.
5 Steps to Follow if Your Rental Car is Stolen in Texas
Step 1: Contact the Police
The first step to cover yourself from liability by reporting it to the police. It's the same as if a vehicle you own was stolen. Explain that the car was a rental and provide as many details as possible regarding the rental contract if you have access to it. Many rental companies offer this information via email or an app. If any personal possessions were stolen with the car, provide this information as well.
No matter which company you rent from, all companies require that a police report be completed. If you delay or fail to take this step, any coverage you have may be invalidated.
Step 2: Contact the Rental Car Company
After you call the police, call the rental company. Do not call the rental company before you call the police, as the rental company will immediately ask for the police report number. If you don't have the information in your rental contract, find out the vehicle identification number (VIN) that you can later provide to law enforcement for the report if you did not have this information initially.
When you call the rental company's toll-free number, select the option to report loss or damage to the vehicle and be sure to document all pertinent information during the call, including:
The representative's name,
The representative's title,
A confirmation number to track the report, and
An alternate number to reach the company, if available.
Find out what coverage you have on the vehicle. You will have protection called collision damage waiver (CDW) or loss damage waiver (LDW) in the best-case scenario. Having this coverage will restrict or remove your liability for the theft. Your personal auto insurance will not cover your rental vehicle.
Step 3: Complete an Incident Report Form
While speaking with the representative with the rental company handing loss and damages, you'll complete an incident report form that contains:
Your information,
Rental agreement,
Insurance information, and
Description of the incident.
This report, along with the police report, is used to investigate the incident and determine the amount of coverage you are responsible for paying to the rental company.
Step 4: Call Your Personal Insurance & Credit Card Company
If you did not purchase coverage from the rental insurance company, contact your personal insurance company. Find out if you have coverage for rental theft with your insurance and file a claim. Suppose you do not have rental theft coverage. In that case, it's quite possible that your credit card offers secondary insurance for rental vehicles, meaning the credit card's insurance will cover the amount that's not covered by your auto insurance policy.
Step 5: Find a Replacement Rental Car
If you follow these steps and promptly report your stolen rental to the police and the rental car company, your contract on that car will be closed. Unfortunately, that may leave you stranded in the same place your car was stolen. Depending on their policy, some rental car companies will permit you to rent another vehicle. If the same company does not allow you to rent another vehicle, contact a different rental car company.
Contact Experienced Houston Personal Injury Attorney for a Free Consultation
No matter the extent of safety precautions that you take, car theft and accidents can happen when you least expect it. If you've been injured in a car accident in Houston caused by another driver's negligence, contact the personal injury lawyers at Sutliff & Stout. Our attorneys are Board Certified in Personal Injury Law by the Texas Board of Specialization, an achievement attained by less than 7% of Texas attorneys. To schedule a free consultation with a personal injury lawyer, complete an online contact form or call us at (713) 987-7111.