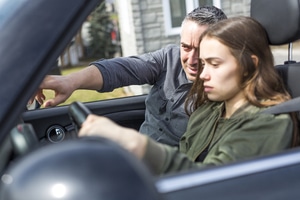 Over the last decade, there were a total of 750 fatalities in car accidents involving teen drivers between Memorial Day and Labor Day in the state of Texas. As schools move to online instruction, COVID-19 stay-at-home orders lift, and major holidays approach, teen drivers engaging in risky behaviors on the road can prove deadly for drivers, bicyclists, and pedestrians in Texas.
Teen Driver Accident Statistics
Teen driver accident statistics show that road users and parents need to be concerned as more teens start driving. In 2017, there were a total of 211,803 car accidents involving teen drivers in Texas. While all fatal accidents are shocking, it's not surprising that teen drivers pose a higher threat to those that share the road. The Centers for Disease Control and Prevention (CDC) found that teen drivers aged 16 to 19 are nearly three times more likely than older drivers to be in a fatal car accident.
Other alarming teen driver accident statistics include:
Over 282,000 teenagers sustained injuries in car accidents and another 2,700 were killed in 2010.
About 32.8% of teen drivers have admitted to using their phones while driving.
Approximately 25% of fatal teen car accidents involved underage drunk driving.
Nearly 60% of teen drivers involved in fatal underage drunk driving accidents didn't wear a seat belt.
Of those involved in teen driver accidents, statistics show that the death rate for male drivers aged 16 to 19 is two times higher than female drivers of the same age. Also, the crash risk for teen drivers increases with the presence of teen passengers, and the risk is even greater for newly-licensed teen drivers.
We want to help you too.
Submit the short form below to get a free case review.
Top Reasons for Teen Car Accidents
Many reasons may explain why teen drivers have a higher risk of getting into a car accident than their older counterparts. The leading causes of teen crashes are:
Driver inexperience
Driving with teenage passengers
Intoxicated driving
Not using or properly wearing seatbelts
Distracted driving
Reckless driving
Nighttime driving
Drowsy driving
As teens start driving, they are usually more alert and cautious as they learn how to operate their cars. As they become comfortable behind the wheel and gradually gain independence, teens are more likely to make poor choices like texting and driving or speeding. Teen drivers who are distracted and fail to concentrate on the road put themselves and everyone else on the road in danger.
What Can Parents Do to Keep Teen Drivers Safe in Texas?
Parents play an important role in influencing their child's driving behavior. To keep the Texas roads safe, the following are ways parents can prepare their teens for safe driving habits before handing over the keys:
Discussing the risks associated with dangerous driving habits
Leading by example
Setting rules or establishing a driving agreement
Practicing safe driving techniques
Supervising driving lessons
Establishing the "dos and don'ts" of driving
Looking over Texas driving laws
Teaching teenagers to drive can be scary. Regardless, parents are responsible for ensuring that their teens feel confident and that they acquire the necessary driving skills needed to drive safely.
Contact Houston's Experienced Car Accident Attorneys
While parents can educate teen drivers on the importance of safe driving, some car accidents are simply unavoidable. If you or a loved one was hurt in a car crash involving a negligent or reckless teen driver, you may be able to hold the teen's parents or legal guardians responsible under Texas's parental responsibility laws. The trusted Houston car accident attorneys at Sutliff & Stout can help you recover the compensation you need to recover from your losses.
At Sutliff & Stout, our Board-Certified lawyers strive to provide our clients with the personal attention, respect, and compassion they deserve. Our successful accident and personal injury law firm has reclaimed generous settlements and results with our clients' best interests in mind. To schedule a free consultation and discuss your car accident with one of our attorneys, call (713) 987-7111 or complete our contact form.