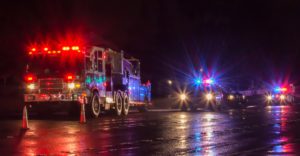 At the scene of an accident, first responders are there assisting those in need before anyone else, putting aside their safety. Working along roads and highways is one of the most dangerous areas to work. In 2019, the Emergency Responder Safety Institute reported seven emergency responders were struck and killed while on duty.
Those who drink and drive put emergency personnel and others in danger. An inebriated driver may not notice first responders working on the side of the road at the scene of an accident. It is vital that first responders can be safe while performing their job. When emergency personnel sustain life-changing or life-threatening injuries because of a negligent driver, they deserve compensation that only a top-rated Texas accident lawyer can give them.
We want to help you too.
Submit the short form below to get a free case review.
How Can I Prove Someone Was Driving Under the Influence?
Suppose you were involved in an accident or injured because of an intoxicated driver. In most cases, you're able to file a personal injury claim for medical expenses and other financial losses resulting from the accident. To prove that the individual was liable for the damage, evidence verifying their negligence will move the process in your favor.
Sometimes it might be difficult to tell if the driver who caused the accident was under the influence of alcohol. An individual who was negligent by drinking while driving may attempt to disguise signs of their intoxication by doing the following:
Using breath spray or chewing gum
Using eye drops
Attempting to use the bathroom
When you experience an accident because of a drunk driver's carelessness, you should call law enforcement as soon as possible so they can create a police report that states the other person was intoxicated and responsible for the harm. When pursuing a personal injury claim against the drunk driver, a police report will be an essential article of evidence. A Houston car accident lawyer can help navigate your claim to get you the best compensation you deserve.
Common Injuries Caused by Drunk Driving Accidents in Texas
The National Highway Traffic Safety Administration (NHTSA) states that 28 people lose their lives because of drunk driving in the United States every day. These circumstances often involve life-threatening injuries and may result in emergency medical care. Common injuries that can occur in a car accident include:
Traumatic brain injuries (TBIs)
Neck, head, and back injuries
Whiplash
Concussions
Fractures and sprains
Internal injuries
If you're injured in an accident, you should immediately seek medical care. Injuries may not always show themselves right after the crash, and you must verify and document any harm. Medical reports may also play a key role in deciding to pursue legal action against the impaired driver. Just like police reports, medical reports are crucial pieces of evidence if your car accident case goes to trial.
What Compensation May I Receive After a Drunk Driving Accident?
Accidents have many types of expenses, which are all too costly for the average individual. Below are a few damages you may be entitled to collect:
Medical expenses
Lost wages or earnings
Pain and suffering
Physical impairments
Permanent disfigurement or scarring
Counseling services
Funeral expenses
Ensure that receipts for medical care and other costs are properly documented for the best possible compensation outcome. When you're harmed because of the recklessness of another, you have the right to hold them accountable. For assistance with legal procedures and negotiations, contact a top-rated Houston accident lawyer.
Get Assistance from Dedicated Car Accident Attorneys in Texas
When you're in a severe car accident that results from another person's carelessness, you may be entitled to compensation for the damage they caused. Holding them accountable for the trauma and harm is vital for receiving assistance with medical expenses and other lost income.
If you're pursuing legal action against the impaired driver, our team at Sutliff & Stout can assist with negotiating settlements and advocating for your rights and needs. Our team of experienced car accident attorneys understands the frustration and pain that follow a car accident.
To schedule a free consultation with one of our Houston car accident lawyers, fill out our online contact form or call (713) 987-7111.