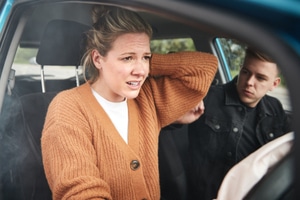 Sometimes, car accident victims in Houston aren't physically hurt but still need to file a claim or lawsuit to recoup property damage to their vehicle and other expenses. To pursue this type of case, you must prove that the other driver caused the car accident and the resulting damage to your car. That typically occurs after a collision caused substantial damage to your car, but the insurance company won't pay enough to repair or replace it. If your passenger was hurt but you were not, you can still file a lawsuit for property damage.
A successful insurance lawsuit requires proof that the other driver caused your accident and the resulting damage to your car. At Sutliff & Stout, we offer free case reviews and can help you understand if this is a viable option in your case.
We want to help you too.
Submit the short form below to get a free case review.
How Do I Hold the Liable Driver Responsible for Damages?
When filing a claim for damages or suing for damages as the driver, you must be aware that Texas is an "at-fault" state. This means that you cannot recover full damages for your car, for instance, if you contributed to the cause of the accident.
If it is found that your negligent actions contributed to 20% of the collision, any reward you receive will be reduced by 20%. If you carry more than 50% of the fault for causing the accident, you cannot recover damages from the other party. If you played no part in causing the accident, you can recover the full value of damages done to your vehicle.
How Do I Prove the Other Driver is Responsible for My Car Accident?
Before any claim or lawsuit can be initiated in Texas, we must establish who caused the accident. At Sutliff & Stout, we often enlist the services of accident reconstruction specialists, survey teams, and other resources to determine how your accident occurred.
We also review all evidence available that relates to your accident, including:
Videos or photos of the collision taken at the scene
The police report
The actual vehicles involved
Interviews with witnesses
Evidence of your damages
Medical records
Any car accident claim in Texas depends on proving negligence. Even if you weren't injured, to recover compensation for damages you sustained, it's required to demonstrate that the other driver was negligent and acted carelessly when they caused the accident. To prove negligence in a car accident claim, the following elements must be established:
The other driver had a legal duty to exercise reasonable care.
The other driver failed to exercise reasonable care.
The negligent conduct caused physical injury.
You suffered harm in the form of actual damages.
The harm was foreseeable, also known as proximate cause.
If we can prove these five elements of negligence, we can file a successful insurance claim or lawsuit against the at-fault driver.
Keep in mind that the passenger may try to file a claim against you, along with the other driver, if they believe your negligence is attributed to the accident that caused their injuries. If this situation arises, we can investigate to disprove these allegations and seek to place full responsibility on the other driver.
What Damages Can I Recover If I Didn't Get Hurt in a Car Accident?
Most car accident claims include damages for medical bills, ongoing care costs, lost wages, pain and suffering, and more. If you weren't hurt, these damages would not be available. However, we can still help you file an insurance claim to hold the responsible party liable for the following damages:
Property damage
Rental car costs
Other related expenses
We can settle most cases with the insurance company by negotiating a fair settlement without going to court. However, if the insurance company refuses to pay a fair settlement based on the evidence of your losses, we can file a lawsuit and take your case to trial.
Contact Aggressive Car Accident Attorneys in Houston for a Free Consultation
At Sutliff & Stout, our car accident attorneys are here to help you learn your options and recover what you've lost after a car accident. Since 2008, our firm has helped injured clients in the Houston area and throughout Texas by investigating their cases and fighting for full and just reimbursement.
To speak with a dedicated car accident attorney at Sutliff & Stout about your case, schedule a free consultation by calling (713) 987-7111 or complete a contact form.