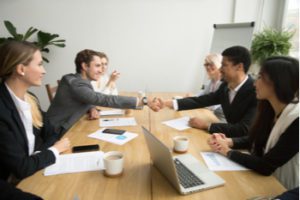 Before going to trial with your personal injury case in Texas, judges typically require the parties to attend a mediation. More and more cases are settled through mediation and the process gives the parties an opportunity to successfully resolve their claims. That's why it's essential to have a good understanding of how this process works.
How Does Mediation Work in a Personal Injury Case?
Mediation is when you and your lawyer meet with the defendant and their lawyer while an appointed or agreed upon mediator presides. Typically, each party presents their perspective of what they think a jury will believe happened and how much they believe a jury will value your case. Unlike a trial, this is a non-formal meeting at an attorney's office that's supervised by a mediator, who most often is a lawyer or judge.
After both parties have presented the best argument of their case, you (the plaintiff) and your lawyer will go in one room while the defendant and their lawyer goes into another. The mediator then shifts back and forth between both rooms and helps negotiate a settlement. A settlement is an arrangement providing you with a monetary payment in exchange for dropping your lawsuit and dismissing all of your claims against a particular party and their insurance carrier.
We want to help you too.
Submit the short form below to get a free case review.
Is Mediation Similar to Going to Trial?
Many personal injury victims mistake this process as something similar to a trial. On the contrary, the mediation process is much more relaxed than a trial. You're not required to speak or testify. Instead, your attorney handles all the negotiations with both the mediator and the defendant's attorneys – which is why it's so essential to hire an experienced attorney whom you trust. The worst-case scenario is you spend a day in an office while your attorney attempts to settle your case.
Instead of going to trial, your lawyer will present a settlement offer to the mediator who in turn will take that offer to the defendant's lawyer. Through the mediator, the defendant's attorney will make a counteroffer that's usually much lower than what was initially requested. That is how the rest of the day goes, with back and forth negotiating until both parties agree to a settlement.
What Role Does the Mediator Play?
The mediator's role during this process is to understand each party's best argument to reach a settlement and close the case. The mediator listens to your best reasoning to help the defendant see your perspective on the matter and meet your requested amount. The mediator also hears the defendant's best argument and tries to get you to settle for their offer.
The mediator's job is to be the voice of reason in a personal injury lawsuit and to discuss with you the risks of not settling your case. They are unbiased and impartial about whether you settle or not. They're simply there to help both parties see the facts objectively and come to an agreement, if possible. If a settlement can't be reached, your case goes to trial, where you can't be sure of the outcome.
Do I Have to Settle My Claim in Mediation?
It's essential to understand that you do not have to settle in mediation. If you and your lawyer don't believe that the defendant is offering a fair amount to settle your claims, you can reject it. At that point, you will just have to wait until you trial date. Because everything that occurs during mediation is confidential, the defendant's lawyer can't tell a jury later on the dollar amount that you were willing to settle for, or the amount that you rejected.
Mediation is meant to bring about an agreeable settlement between both parties to close the case. No matter what is said during this time, it stays undisclosed to any courtroom.
How Does Mediation Help My Personal Injury Claim in Texas?
Mediation can help your injury case because the matter is handled in a calm, informed, and fair manner. You never know what jurors might show up on the day of your injury case trial, and there's never any certainty that you will win the monetary sum you seek.
During mediation, your attorney is by your side throughout the entire process. You won't need to say a word to the defendant because you've communicated all the necessary facts to your lawyer. In mediation, your lawyer advocates on your behalf. That's why it's essential to hire a knowledgeable and experienced personal injury attorney to represent your interests.
Experienced Houston Personal Injury Attorneys on Your Side
If you've been injured in Houston by the negligent actions of another, don't delay in seeking legal counsel from a trusted personal injury lawyer. The sooner that you seek trusted legal advice to help with your claim, the sooner you'll most likely settle and recover from your injuries.
At Sutliff & Stout, our board-certified personal injury attorneys are committed to serving accident victims across the Houston area. Our goal is to help injured victims recover compensation for their injuries, medical bills, lost wages, and more. Since 2008, Sutliff & Stout attorneys have successfully litigated countless cases and won settlements for those injured in Houston. To speak with one of our personal injury lawyers over a free consultation, complete an online contact form or call today at (713) 987-7111.