The Austin City Council recently approved a pedestrian safety grant of $1.9 million. The funds are being directed towards the study of dangerous intersections and to the installation of a variety of pedestrian safety devices throughout the city. We've examined pedestrian crash data from 2010 through 2015 to help the city of Austin understand which intersections should take priority.
---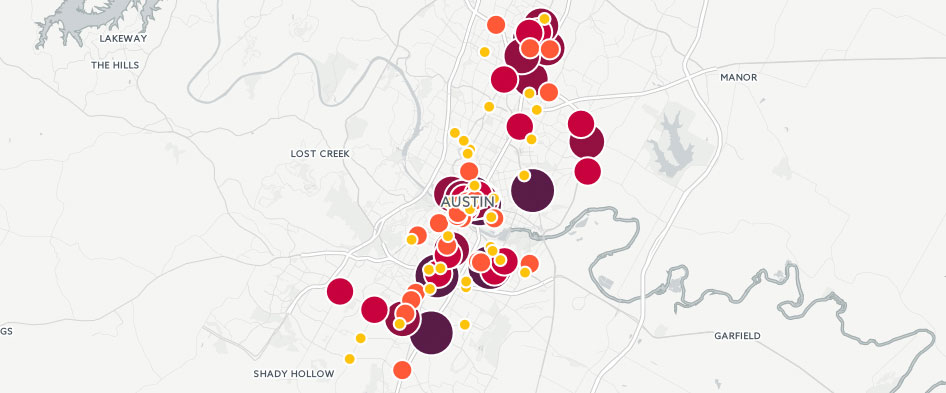 In an effort to identify the most dangerous pedestrian intersections in Austin our research team analyzed over 1,700 individual collision records from the Texas Department of Transportation spanning six years (2010 – 2015).
The Danger Score takes into account the number of crashes involving pedestrians, along with the number of fatalities and injuries. The score worsens if a fatality has occurred.
Here are the 100 most dangerous intersections for pedestrians in Austin.
Rankings
[List: 100 Most Dangerous Pedestrian Intersections in Austin]
Danger Score Formula: Fatal Crash(x10) + Incapacitating Injury Crash(x5) + Non-Incapacitating Injury Crash(x3) + Total Crashes = Danger Score
Interactive Map
Use the map below to explore the dangerous pedestrian intersections throughout Austin. Larger circles represent a more dangerous intersection. Hover over any circle to see the cross streets, danger score, total crashes, and fatal crashes for each intersection.
Key Findings
From 2010-2015, there were 471 crashes, 438 injuries, and 27 fatalities at the Austin intersections that made up the top 100 most dangerous.
The average danger score of a dangerous intersection was 21.1
The average number of accidents per dangerous intersection was 4.71
The average number of injuries per dangerous intersection was 3.37
The average number of deaths per dangerous intersection was 0.27
The most dangerous intersection for Austin pedestrians is Bluff Springs Rd. & E William Cannon Dr. which produced 14 crashes, all of which caused injuries
The three deadliest intersections are S Congress Ave & W Ben White Blvd, Ed Bluestein Blvd & Loyola Ln, and Craigwood Dr & E Martin Luther King Jr Blvd. 54% of the crashes at these intersections resulted in fatalities.
Overhead View of the Top 5 Dangerous Intersections
Below are screenshots taken from Google Maps which show a birds-eye view of each of the top five most dangerous pedestrian intersections in Austin between 2010 and 2015.
1. Bluff Springs Rd. & E William Cannon Dr.
Pedestrian Crashes: 14 / Injury Crashes: 13 / Fatal Crashes: 0

2. Trinity St & E 7th St
Pedestrian Crashes: 14 / Injury Crashes: 9 / Fatal Crashes: 0

3. Interregional Hwy & E 6th St
Pedestrian Crashes: 11 / Injury Crashes: 8 / Fatal Crashes: 0

4. S Pleasant Valley Rd & E Oltorf St
Pedestrian Crashes: 12 / Injury Crashes: 11 / Fatal Crashes: 0

5. S Congress Ave & W Ben White Blvd
Pedestrian Crashes: 6 / Injury Crashes: 3 / Fatal Crashes: 2