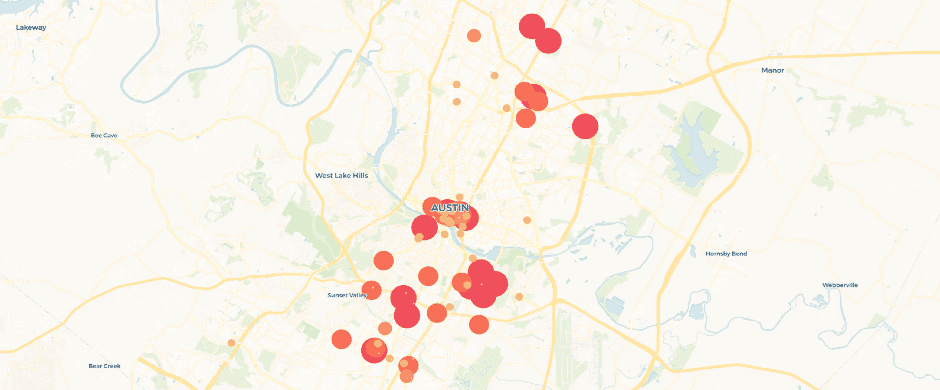 According to AustinTexas.gov, "the majority of pedestrian crashes (56%) between 2010 and 2015 occurred at an intersection or within 50 feet of the intersection…Mid-block crashes, however, were more severe than intersection crashes. In fact, a crash occurring mid-block was more than twice as likely to result in incapacitating injury or fatality as those occurring at or near an intersection. Indeed, three-quarters of pedestrian fatalities in Austin occurred at mid-block locations, which is consistent with the national finding that 72% of fatalities occur at non-intersection locations."
In response to these statistics, Austin has made many efforts to improve their city's roads. For starters, the Austin City Council recently approved a pedestrian safety grant of $1.9 million. The funds are being directed towards the study of dangerous roads and to the installation of a variety of pedestrian safety devices throughout the city.
But that's just one of a few actions taking place in order to improve safety for pedestrians. They have also established:
Pedestrian Safety Citywide Project
In 2015 the City of Austin received $2.4 million in Transportation Alternatives Program (TAP) funding from the Federal Highway Administration (FHWA) to install five pedestrian hybrid beacons*, Accessible Pedestrian Signals, and countdown timers at approximately 600 intersections across Austin. The APS's will improve navigation for those with disabilities due to their audible tones at traffic signals and beacons to help those who are visually-impaired.
*PHBs are pedestrian-activated warning devices that help pedestrians safely cross major roadways where traffic signals are not present and/or warranted. In a recent study of 11 PHB locations in Austin, PHBs have proven to be an effective treatment as an average of 94% of drivers were found to yield to pedestrians.
Sidewalk Master Plan
In June 2016, Austin City Council adopted the Sidewalk Master Plan and ADA Transition Plan Update in response to the city of Austin missing 50% of its sidewalk network and 80% of existing sidewalks were insufficient. This plan and plan update established goals and policies for new sidewalk reconstruction, rehabilitation of the existing sidewalk network, and improving mobility for people with disabilities.
I-35 Road Safety Audit Recommendations
The RSA Team developed a number of short- and long-term recommendations to improve the pedestrian environment and discourage unsafe crossings around Interstate 35. These recommendations include emphasizing comfort and safety for future pedestrian improvements, including wider sidewalks, installing pedestrian-scaled lighting, and better driveway design.
With all these statistics and measures in mind, there's still more work to do. In response, we decided to conduct an analysis of the worst roads for a pedestrian in Austin. We've examined pedestrian crash data from 2017 to 2019 to help the city of Austin understand which roads should take priority.
In an effort to identify the most dangerous roads for pedestrians in Austin, our research team analyzed over 1,000 individual collision records from the Texas Department of Transportation spanning three years (2017 – 2019).
The Danger Score takes into account the number of crashes involving pedestrians, along with the number of fatalities and injuries. The score worsens if a fatality has occurred.
Danger Score Formula: Fatal Crash(x10) + Incapacitating Injury Crash(x5) + Non-Incapacitating Injury Crash(x3) + Total Crashes = Danger Score
Interactive Map
Use the map below to explore the dangerous pedestrian intersections throughout Austin. Larger circles represent a more dangerous road. Hover over any circle to see the cross streets, danger score, total crashes, and fatal crashes for each intersection.
Key Findings
From 2017 to 2019, there were 1395 crashes, 1337 injuries, and 88 fatalities at the Austin roads that made up the most dangerous roads.
The most dangerous road for Austin pedestrians was Interstate 35, with a total of 32 fatalities and 102 injuries.
The five deadliest roads for pedestrians are Interstate 35, E Riverside Drive, State Loop 343, State Loop 275, and Guadalupe Street.
Overhead View of the Top 5 Dangerous Roads
Below are screenshots taken from Google Maps which show a birds-eye view of each of the top five most dangerous pedestrian accident roads in Austin between 2017 and 2019.
1. Interstate Highway 35
Total fatalities: 32 / Injuries: 102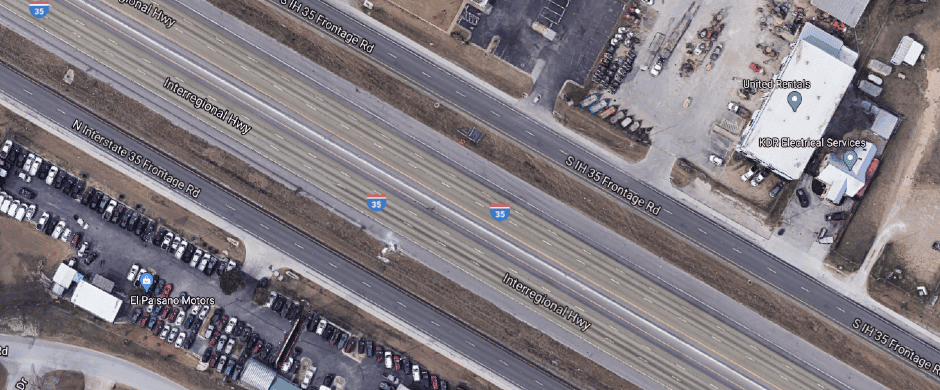 2. E Riverside Drive
Total Fatalities: 2 / Injuries: 32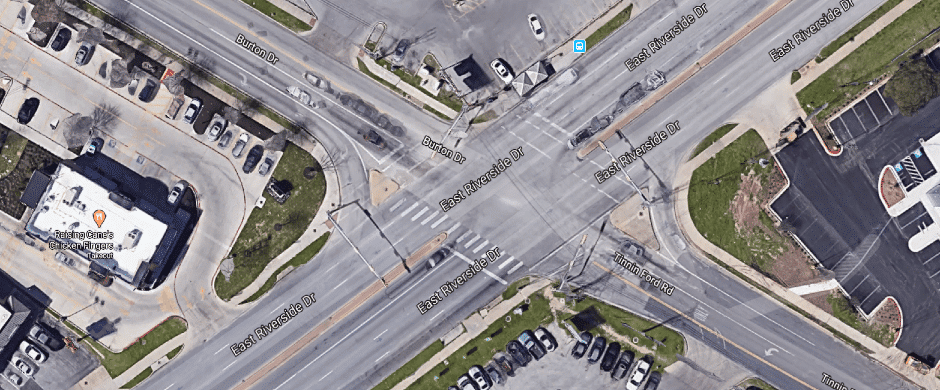 3. State Loop 343
Total Fatalities: 3 / Injuries: 28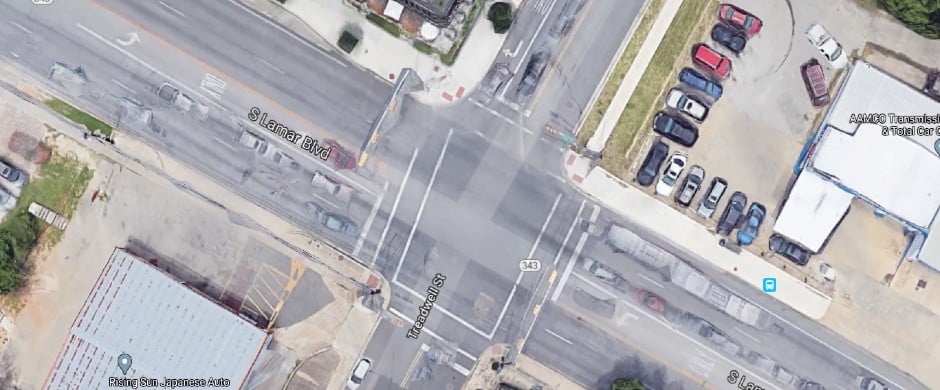 4. State Loop 275
Total Fatalities: 6 / Injuries: 22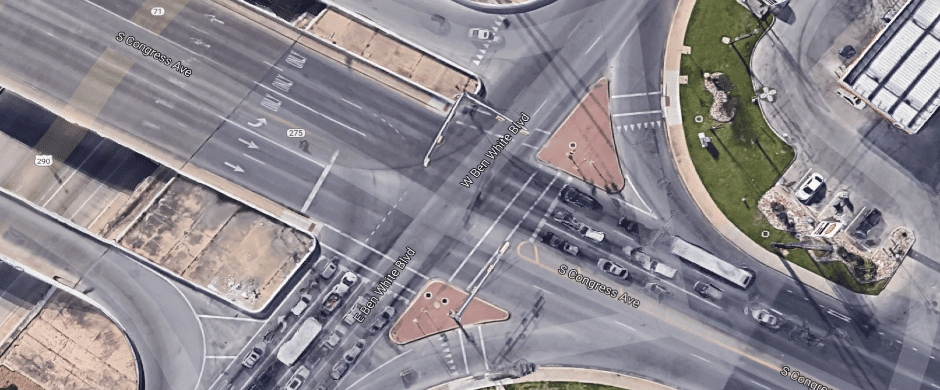 5. Guadalupe Street
Total Fatalities: 1 / Injuries: 27