Late appearing car accident injuries are not uncommon. Learn how to protect your ability to recover compensation for delayed injury symptoms.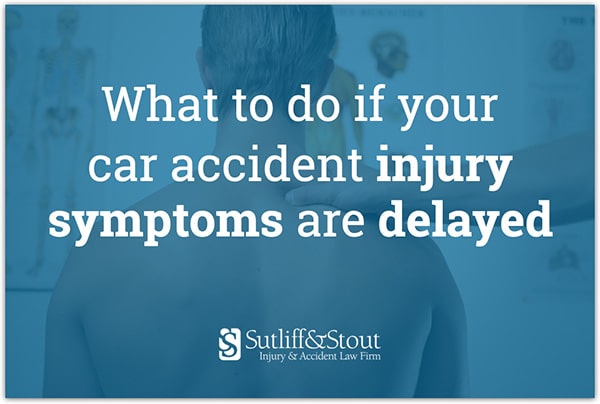 So much happens in the hectic moments after a car accident. Within all the chaos, you may not pause to assess how you feel.
Instead, you focus on the urgent demands. You call police, exchange insurance information, and tow your car for repairs. While arranging alternate transportation and juggling your interrupted schedule, you may neglect your post-car accident symptoms.
In fact, you may not notice injuries from your car accident for days. Then, when your stress lessens, you start to feel physical pain. Many accident victims experience late-appearing car accident injuries.
If your pain after a car accident is delayed, you can still file a claim against the responsible party.
Here's what you should know about common car accident injuries and symptoms:
Why Are Accident Injury Symptoms Often Delayed?
Car accidents are stressful, so the human body exerts defenses against stressful events. Perhaps you know of the "flight or fight" response, which determines if you freeze or run when confronted with stress.
In a stressful situation like a car wreck, the body exerts stress hormones like cortisol and adrenaline. These hormones help you to get through stressful experiences.

You may notice physical responses to stress, such as increased heart rate, rapid breathing, and sweating. The moments during and after the car wreck, you probably experienced these effects of stress.
However, adrenaline reduces your ability to feel pain. That means that as your heart pounds after a car wreck, you may not feel the injuries you sustained. You may not realize how much you hurt until later.
---
What Are Common Car Accident Injuries and Symptoms that Appear Later On?
Whiplash
Injuries like whiplash affect soft tissue (muscles, tendons, and ligaments). These injuries may not present for days or weeks. During the first few days after your car wreck, soft tissue injuries produce increased inflammation and swelling. You may notice swelling and bruising right away, but pain may set in with late-appearing car accident injuries.
Concussions
Head injuries can be difficult to diagnose but carry severe consequences. Concussions may seem mild at first but can progress to life-impacting severity. If you experience dizziness or headache following your car accident, you should visit a doctor for a concussion evaluation. Depending on the severity of your injury, concussion recovery can take months.
Internal injuries
Internal bleeding is also difficult to detect. The force and traumatic impact of a car crash can damage internal organs. If you have abdominal pain, deep bruising, or lightheadedness, seek medical attention for potentially life-threatening internal injuries.
Back pain
The spine endures great strain during a car crash with sprains, strains, and herniated disks. Damaged nerves in your back may radiate into your legs as sciatica pain, numbness, or tingling. If your back pain after a car accident is delayed, the car accident may have caused it. You shouldn't ignore your delayed back pain after a car accident. Instead, obtain x-rays to evaluate back injury.
Emotional distress
Your physical injuries may cause you emotional distress, including anxiety and insomnia. You may have difficulty sleeping as you replay the events of your car accident in your mind. Extreme psychological effects like experiencing a life-altering fear of driving may require medical intervention. The party responsible for your injuries should take responsibility by compensating you for your emotional distress.
Experiencing delayed injury symptoms?
If you've recently been in a car accident and are now dealing with late appearing injuries, contact Sutliff & Stout today for a free, no-obligation case review.
---
What Should I Do for Delayed Accident Injury Symptoms?
Seek medical attention
First, if you feel any delayed back pain or other unusual physical symptoms after a car accident, see a doctor. Don't try to tough out your injuries. Instead, seek prompt medical attention for post-car accident symptoms. If you worry about paying medical bills, a car accident injury attorney can work to get your medical costs reimbursed. 

Negotiate with insurance
Once an insurance company realizes that their client was at fault for your injuries, they try to minimize expenses. The insurance company will likely offer you a fast settlement, but you shouldn't blindly accept this money. The settlement offered is likely far less than the amount you deserve. Instead of taking the quick settlement bait, consult an attorney to review your potential damages before settling.
Call an attorney
You may feel too intimidated to negotiate effectively with the other driver's insurance company. A car accident injury attorney negotiates with insurance companies all day. An attorney will fight for you to receive fair compensation for your injuries.
---
Get Legal Advice for Your Delayed Car Accident Injury
You don't need to continue to suffer without receiving compensation for your late appearing car accident injuries. Even if you did not feel car accident injury symptoms right away, we can help you get a fair settlement.
If you experience delayed accident injury symptoms, contact one of our experienced car accident attorneys for a free consultation. In your free case review, we'll listen to your story and let you know your best legal options.