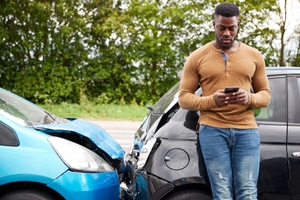 Each year, more than 6 million car accidents occur across the United States, many of which are fatal. According to the National Highway Traffic Safety Administration, more than 30,000 deadly vehicle accidents take place across the country annually. Texas has one of the highest rates of traffic fatalities. According to the Texas Department of Motor Vehicles, 107,215 crashes occurred in Harris County in 2018, making Houston one of the more dangerous areas for drivers in Texas.
Other cities in Texas that experience a higher than average amount of car accidents include Dallas, San Antonio, and Austin. While general negligence law is the same for all cities in Texas, the courts are different and how collisions are handled by the police are different. If you or a loved one are in a car accident in Texas, we suggest following these steps.
We want to help you too.
Submit the short form below to get a free case review.
What Should I Do After Being Involved in a Car Accident in Texas?
When car accidents occur, drivers are often shaken up and don't know what is legally required and what they should do after a crash. Keep these steps in mind no matter where you are in Texas.
Stop at the Accident Scene
Under Texas law, you must stop at the accident scene. If you drive off, you could be cited with a hit and run violation.
Safeguard the Accident Scene
If you haven't sustained severe injuries, try to protect the accident scene to prevent further accidents or injuries. If you're in the middle of the road, try to get the cars to the shoulder. Be sure to get other drivers' attention by switching on your car lights and setting up hazard warning devices to alert other motorists of the accident ahead.
Call the Police
We always suggest contacting the police and having the collision documented through a police report. The police report is also valuable to initiate your claim with the insurance company and will be helpful in a personal injury case. When the police arrive at the accident scene, they'll help ensure it stays protected from other drivers or crowds.
Take Photos for Evidence
Taking photos and videos at the scene of the accident can be extremely valuable evidence in your injury and property damage claim. Car accidents are incredibly stressful situations, and taking photos to record the position of the vehicles, license plate numbers, injuries, and property damages involved will be valuable. However, be sure not to interfere with the police investigation when they arrive at the scene.
Seek Immediate Medical Attention
It is imperative that you seek medical attention to treat your injuries as soon as possible after a car accident. Do not delay seeking medical treatment, as this can hurt your injury claim. If you suffer significant injuries, do not hesitate to take emergency transportation to the hospital. The physician will examine you and decide whether you need further treatment or discharge you.
Call a Trusted Car Accident Attorney
After a car accident in Texas, it's vital that you reach out to an experienced car accident lawyer to ensure you're reimbursed for your losses. If another party's negligence caused the accident, a skilled injury attorney could advocate for you against insurance companies and other legal parties to secure just compensation for damages sustained within a reasonable timeframe.
Keep a Personal File
While this step isn't legally required after a car accident, it's helpful to maintain a personal file to store and organize necessary documents related to the accident. Saving receipts, conversations, car numbers, photographs, and more so they're easy to find when you need them will make the car accident claim process more manageable.
Speak to an Experienced Injury Attorney After a Car Accident in Houston
Car accidents can happen anywhere, but statistics show a high concentration across the State of Texas. If you're involved in a car crash in Houston or any city in Texas, be sure to follow the above steps and contact a knowledgeable car accident attorney to protect your rights.
Sutliff & Stout are experienced car accident lawyers who serve clients who have been injured in car crashes in Houston and surrounding cities. Over our law firm's 11-year history, our board-certified lawyers have helped clients receive hundreds of millions in recoveries. To speak with a Houston car accident attorney at Sutliff & Stout about your case today, schedule a free consultation by calling (713) 987-7111 or complete our contact form.