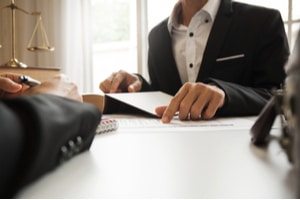 Car accidents can be a devastating experience that can leave injured victims facing long-term challenges. Houston car accident attorneys have seen a rise in collisions over time that range from minor to life-changing.
If you were in a car accident in Texas, you may be wondering whether you should settle or sue for your car accident injury claim. Understanding the difference between the two will help you make a more informed decision on which option is best. Speaking to an experienced attorney about your car accident will also help you determine which route to take and help you through this complicated process.
We want to help you too.
Submit the short form below to get a free case review.
Critical Differences in Suing vs. Settling through the claims process in a Texas Personal Injury Case
The primary difference between suing versus settling through the claims process is your ability to force the other side to provide you with information (this is a two-way street so the party you sued can also require you to provide information). The reality is that most cases settle. As such, the question is typically "how do I achieve the best settlement?" Each case is different and whether you should file a lawsuit depends upon the facts of your case. This is where an experienced trial lawyer can help. At Sutliff & Stout, we try cases and we know how to achieve the best possible results for our clients. And if the insurance company refuses to be fair, then we are prepared to have a judge or jury decide your case.
How Does the Settlement Process Work in Texas?
The settlement process typically begins with assigning fault. You will need to provide the insurance company evidence that shows that its insured was responsible for the collision. The car insurance company will have its own investigation to determine whether you or their policyholder was at fault for the accident. Once fault is assigned, the question will turn to the extent of your damages. This will depend on the severity of the collision, the amount of medical treatment you require and how your injuries have a effected your life.
Items Collected in an Insurance Investigation
The insurance investigation conducted after the car accident to determine fault will focus on collecting:
Police reports
Witness statements
Damage to any personal property
When you partner with an experienced Houston car accident attorney, they will help you gather this information, but it's helpful to keep track of these documents as well.
What Compensation Can I Receive After My Car Accident in Texas?
Financial compensation or damages that you may receive after a car accident depend on the nature and extent of your harms and losses. Generally, you are entitled to recovery money for the following:
Past and future medical expenses;
Past and future wage loss;
Past and future pain and suffering;
Past and future mental anguish;
Past and future disfigurement.
Be sure to keep track of all medical bills or receipts from other expenses related to your car accident. That will help create a more robust case demonstrating your losses to the insurance company.
Contact Dedicated Houston Car Accident Attorneys
After a car accident in Texas, call the police immediately, and seek medical attention for your injuries. After that, speak to an experienced Houston car accident attorney to advise you on the next step to recover compensation for your injuries. Whether you decide to settle or sue, it's essential to have a knowledgeable attorney on your side to represent your needs.
The car accident attorneys at Sutliff & Stout are highly experienced in personal injury claims involving complex car accidents. We've helped our clients receive hundreds of millions in recoveries, and understand how to navigate tactics insurance companies use to settle at unfair and low amounts.
To schedule a free consultation and speak with a car accident attorney at Sutliff & Stout, complete our contact form or call (713) 987-7111.