Considering hiring a personal injury attorney? Here are the questions you must ask before you sign on the dotted line.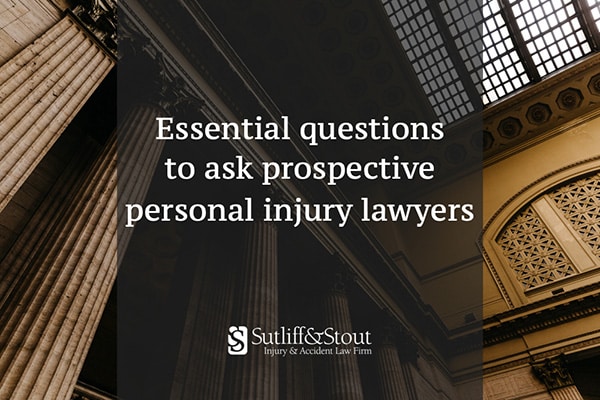 If you or a loved one has suffered serious injuries in an accident, it's possible that you've never had any prior experience with the legal system.
This might be the first time you've ever needed to consider hiring a lawyer. That decision is a critical one and it should not be taken lightly.
After an accident, your personal injury lawyer will be your advocate and representative throughout the process of securing compensation for your injuries and other losses. You want to make sure this is someone you trust, someone who has a track record of success, and someone with whom you can communicate openly and honestly.
12 Questions to Ask a Personal Injury Attorney
If you were hurt in an accident and are considering securing legal representation, here are 12 important questions to ask the personal injury attorney that you interview.
1. Do you offer a free and confidential case review?
A reputable personal injury lawyer will offer you a chance to discuss your case for free. This confidential evaluation will give you an opportunity to ask preliminary questions and determine whether filing a personal injury lawsuit is the right course of action for you. Before hiring a law firm, you want to be sure to actually speak to a lawyer and not just a case manager or paralegal. While it is fine to give basic information to non-legal staff, we feel like you should actually speak with a lawyer when you are deciding to hire a lawyer.
---
2. How much time can you spend on my case?
Depending on the complexity of your personal injury case and the extent of your injuries, it can take several months or even years to resolve. You'll want to make sure that any personal injury lawyer you're considering hiring has the time and resources to devote to your case. You don't want a lawyer who will rush to settle your case just for the sake of settling.
Likewise, you don't want a lawyer who drags his or her feet and takes way too long handle you matter. While each case is different and a lot depends on how much treatment a person needs, it is reasonable to assume that a case can be settled within twelve to sixteen months. This timeframe can be extended significantly if your case needs to be tried because the court system must address a lot of cases and it can take a substantial amount of time to reach your case.
---
3. What is my personal injury case worth?
This is a tough questions to answer because each case is different and each person's injuries are different. Generally speaking, the value of a personal injury case depends on the extent of a person's injuries and how those injuries will affect the person throughout his or her life.
Although your lawyer can never make promises or guarantees about the level of compensation to which you're entitled, an experienced accident lawyer can give you a range of damages that are realistic for your type of case.
---
4. What are your fees?
Many personal injury lawyers represent clients on a contingency fee basis. This means that you will not have to pay fees to your personal injury lawyer unless you recover damages in your personal injury case. If you do, your lawyer will take a percentage of the compensation he or she obtains for you. You should be clear on this percentage amount before agreeing to have him or her represent you.
Be wary of inexperienced lawyers who offer low contingency fee percentages. Although it might seem like you'll end up taking home more money, you run the risk of not winning your case.
---
5. What happens if I don't win my personal injury case?
You should ask your personal injury lawyer what will happen if you do not win your case. Some lawyers charge for any costs they advance in relation to your case, such as court filing fees and costs related to gathering evidence. Ask whether you or your lawyer will be responsible for these costs in the event that your personal injury lawsuit is unsuccessful.
---
6. What percentage of your current caseload is personal injury cases?
If you suffered serious injuries in an accident or have a complex case involving multiple parties, you should hire an experienced personal injury lawyer who specializes in these types of cases. Ask your personal injury lawyer how much of his or her current caseload is made up of personal injury lawsuits. You'll want to work with someone who spends most of his or her time working on these types of cases and has developed an expertise in this area of the law.
---
7. How often do other lawyers refer cases to you?
Another question to ask a personal injury lawyer is how often other lawyers in the area refer cases to his or her firm. This is a good indicator of the attorney's reputation in the legal profession. A lawyer's reputation and ability to interact with other lawyers can make or break your case.
---
8. Have you handled complex cases involving commercial defendants?
If you were injured in a truck accident or bus accident, you should ask the personal injury lawyer if they are familiar with the Federal Motor Carrier Safety Regulations. These rules apply to commercial truck companies and large bus carriers. Accidents involving semi-trucks or buses are much more complex than the typical car accident case involving passenger vehicles.
---
9. How long have you been practicing law?
You might not want a rookie fresh out of law school to handle cases involving injury or death of a loved one. Ask how many years of experience your personal injury lawyer has and whether or not junior associates will be working on your case. It's common for paralegals and young attorneys to handle certain parts of your case, but you wouldn't want someone without enough experience going to court or taking the lead in settlement negotiations.
---
10. Can I see a list of your case results?
You should ensure that your lawyer has taken cases to trial before and won. Most personal injury lawsuits settle before trial, so it's also good to have an understanding of the types of settlements a personal injury lawyer has been able to secure for the client.
---
11. Have you handled cases similar to mine?
Ask the lawyer about their familiarity in working on cases that are similar to yours. No two cases are exactly alike, but the lawyer's answer to this question should give you an idea about how prepared he or she is to handle your case.
---
12. Have you ever been disciplined by the Texas state bar?
Obviously, you want an attorney who has never gotten into any trouble. Ask your personal injury lawyer whether he or she has ever been subject to disciplinary proceedings by the State Bar of Texas.
---
Talk to Sutliff & Stout About Your Personal Injury Case
If you were injured in an accident and live in Houston or the surrounding areas, a personal injury attorney at Sutliff & Stout can speak with you about your legal rights. To talk to an experienced auto accident lawyer about your personal injury case, call or text our office anytime at 281-853-8446.
Ready to get answers about your injury claim?
Submit the short form below to get a free case review from Sutliff & Stout.