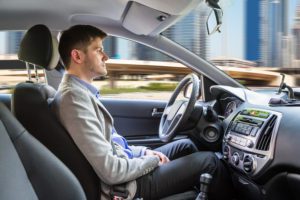 Today, car insurance personal injury claims involve situations where human error was at play. However, as artificial intelligence continues to compose an increasing aspect of car technology, it poses the question: How will self-driving cars affect personal injury claims and cases? Contacting a skilled personal injury lawyer is the best way to learn more about the nuances of self-driving cars and how they can influence personal injury claims.
In Texas, if you are in a car accident and incur any injuries or property damage, you have the right to file a claim against the other driver. Working with an expert accident lawyer is the best way to develop a strong case and ensure you receive fair compensation. Here is some important information on how self-driving cars could affect personal injury cases in Texas.
We want to help you too.
Submit the short form below to get a free case review.
How Do Self-Driving Cars Affect Personal Injury Claims in Texas?
Just like many people refer to airplanes as "flying themselves," car manufacturers are starting to implement advanced technologies that give vehicles the options to go into autopilot mode. However, unlike airplanes—which have very few objects in the air to collide with—cars are still subject to constant road hazards. Pedestrians, other vehicles, motorcyclists, animals, and bikers are just a few of the many hazards a vehicle could encounter on the road. Since vehicles are subject to much more changing conditions and hazards than airplanes, it's reasonable to assume that as new technologies are implemented, there will still be accidents.
In the case of an accident where self-driving or artificial technology was involved, it can be challenging to determine liability. If a self-driving vehicle causes a crash, then liability will not fault on the victim in the accident. However, there are still a variety of parties that might be found liable, such as the car manufacturer, the developer of the self-driving technology, the party that installed the technology into the vehicle, and the driver of the car.
Since a variety of parties can be liable, cases where autonomous technology is involved can be more complex and take longer to settle. In fact, product liability cases can often take years to settle, as proving that a technology or product was defective is an extremely involved process. Additionally, since large tech companies have access to a lot of resources, they will often exhaust every opportunity to avoid responsibility for the accident.
Contact the Personal Injury Lawyers at Sutliff & Stout
Getting into a car accident can be an extremely draining, emotional, and stressful experience. If you have been involved in an accident that involved self-driving technology in Houston, it's essential to seek legal counsel from a skilled Houston car accident lawyer. Cases where autonomous technology is involved are complex, and it's essential to have an experienced attorney on your side. At Sutliff & Stout, we understand the stress accompanied by car accidents and are dedicated to taking a personalized approach to every case. Our firm has been recognized as one of the top 3 personal injury law firms in Houston, and our team of Houston car accident attorneys has helped thousands of individuals with their car accident claims.
If you are looking to discuss your car accident case with a personal injury lawyer, the team at Sutliff & Stout is here to help. Call us today at (713) 405-1263 or contact us online to discuss your injury or car accident claim.